Question: What is the typical age difference that Russian women would accept?
Oliver & Irena Beale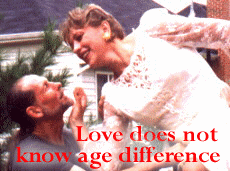 "All I can say is that I am glad that Irena found me. And I am very happy." Oliver Beale  

"I always wanted to meet the man of my dreams—an artist. I am an artist and always wanted to share my life with a man in the same profession. When I came to the Encounters International office in Moscow and saw his shining eyes reflecting the depth of his soul, I decided to write a letter to him. We have a large age difference which I do not feel! Seeing his smile is the greatest happiness for me." Irena Beale 

Oliver Beale was 59 years old when he received an 'unsolicited' letter from 29 year old Irena Shumilova of Moscow. Of course, he was flattered at the experience of a younger woman initiating correspondence with him. Irena saw Oliver's photos and profile in one of the Encounters International male client photo albums. He wanted to meet a younger woman. However, Oliver had also hoped to find a woman willing to support a free lance artist. That was his second criteria for a Russian woman.
Irena did not fail to exceed his expectations in this respect either. The first week after her arrival in Maryland, on a fiancée Visa, she earned $90. She was very proud to pay her share of the couple's expenses. Oliver and Irena are the Encounters International couple with the largest age difference-30 years.
The important thing to notice here is the expectations of each person. Oliver was seeking a younger woman, willing to support a free lance artist. Irena wanted to find a fellow artist who was patient and would be a best friend. Their expectations were very different. Yet, Oliver met Irena's expectations and Irena met Oliver's expectations. In that way, they are a perfect match! What more could anyone ask for?
Yes, their age difference has created some unique problems for the couple. But, since they know they are exactly what each other was seeking, they are very well equipped to work through the issues together. Instead of focusing on the age 'difference,' they remained focused on the expectation 'similarities!' The positive aspects far outweighed any possible negative ones.
Oliver and Irena are the Encounters International couple with the largest age difference-30 years. They have been together for over 15 years and they should be a lesson and an example to everyone concerned about age.