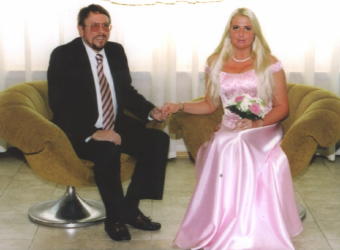 My lovely bride who I met through Encounters International and I were married in Moscow on October 12. Her son Sergey and her parents were there to witness the event. We started at the Hotel Metropol at Red square where I had a room, with a ride in our limousine, drinking champagne on the way to the ceremony.
A string quartet played the wedding song as my bride and I walked down the aisle together. The ceremony was all in Russian and luckily all I had to say was Da! when Irina poked me in the ribs. :) We exchanged our vows, signed the marriage papers and then exchanged rings. All very beautifully done.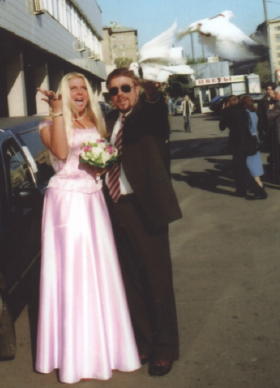 After the ceremony we went outside where I thought we were having pictures taken before we went in our limousine. I was very surprised when this man suddenly grabbed my hand and was thrusting a pigeon into it. He of course was speaking Russian and I did not understand a word. But quickly I got the idea and held the pigeon as he placed another into Irina's hand. It was very lovely, releasing the pigeons as a symbol of our union.
We then drove to a hill overlooking Moscow where many couples were having their photos taken. It is a tradition to go to this spot near Moscow University after the marriage to take photos. Again more champaign. And then back to the Hotel Metropol for drinks and an early dinner.
The Metropol is one of the most grand hotels I have stayed in and the meal was superb. Caviar, more champaign for the ladies, single malt scotch for Irina's father and I. Then a really great meal which lasted for hours.
Irina and I then saw her son and parents off. We continued to celebrate with a special bottle of champaign I brought from Virginia. It is made by Oasis Vineyards and was named Infinity by Corrine the owner. The champaign is for a couple to dedicate their lives together forever. What could be more appropriate for a wedding?
Our celebration went on into the wee hours of the morning after which we retired to our room at the Metropol.