Bill and Inna B. from Bethesda, Maryland
(married December 6, 1998)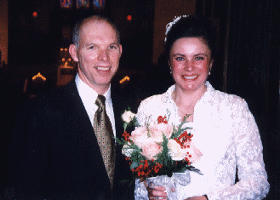 This all started four years ago when I got out of unhappy marriage and started dreaming of meeting a man whom I can be happy with for the rest of my life. I was dreaming of having a real family at last. A friend of mine recommended to try Encounters International known for good reputation. A few months later I met my future husband.
At that time I knew just a few words in English and my girl-friend was around to help us communicate. Later on I found out that Bill was reluctant to even meet me when he found out that I don't know English. Now we often laugh at that since he keeps repeating that he does not know how he would have lived without me
.Our first meeting and what followed was unusual and romantic -- all those letters, telephone calls and learning, learning, learning English. Several times I visited America and took some English courses in college. Bill came to Russia a few more times and we came to know each other better and better. I realized that Bill is a very decent, kind and sensitive person who cares about me and protects me.
We got married in Russia and had an official wedding ceremony in Washington, DC. I am very pleased that I live in Bethesda, a quiet neighborhood not far from the US capital. My life has changed a lot -- new country, new people, different language -- all this is not easy to get used to. But we are happy with our family life. Bill appreciates that I share all his interests, especially skiing and swimming. Of course I miss my musical school where I used to teach, I miss my work which I loved. But I know that everything will come in time. For the starters I already have a few students whom I teach music. Bill is proud that I actively participate in his church's quire. He goes to the same church where president Clinton goes and I happened to see him once there. There are a lot of news to write about back home...
I want to thank Encounters International for bringing us together. I wish you more growth and prosperity in the future.
Inna B.