Steve and Tatiana Chilcotte from Aaronsburg, PA
(married March, 2005)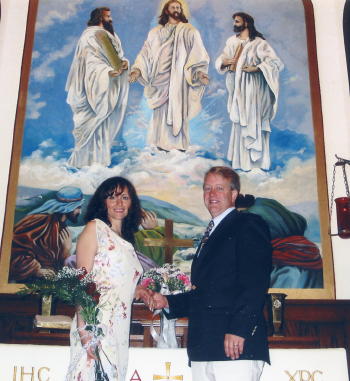 In Tatiana's words:
Dear Natasha! Steve and myself want to thank you for your work so appreciated by many.
Because of you we finally found what we have been searching for a long time -- love and happiness.
We wish your agency prosperity and further success and we hope that every man and every woman who comes through your doors will find their happiness.
With respect and appreciation,
Tatiana Chilcotte
In Steve's words:
Dear Natasha, it is ironic that after three years of writing emails, (hundreds of dollars worth every year,) and taking two wasted trips - one with a tour company and one on my own, all it took was a matchmaker to point me in the right direction to find a woman. If it weren't for the coaching and advice that I received from you, I would have spent my time and money on the wrong women - again - and come home empty handed.
I can't imagine trying to do this without help. Even though we hit it off right away, the distance and language barrier would have made it very difficult to keep the process moving. I can really see the value in having someone who is there to encourage the woman and assure her that all is going well and to sort of keep and eye on things. There is no chance of a woman "working a guy over" with your agency involved. I spent many wasted days seeing women who were only interested in having someone spend money on them, speak a little english and have a nice visit. That would be fine if you are just dating women around home, but we are thousands of miles from home looking for a mate. With your agency, the date is not really blind, since you seem to know who is a potential match and who is not. I noticed that you received feedback from the women I met and gave me advice on how to proceed. I appreciate your calling me and telling me to not "blow it" after meeting with Tatiana. To tell you the truth, I probably would have without your advice. I would not have known her level of interest in me without your feedback.
Tatiana is the most beautiful and quality woman that I have ever been involved with. I still have trouble believing I could have someone like her in my life. But we write each other often, she is studying english and we are working on her visa application. Although I think she is a little apprehensive about coming to America, I think that we will be married by the end of this year and start a new life together. I can't wait to have her here with me.
I have advised other men who I met in Kiev to change their tactics and use your services. The money spent on your service is easily saved by avoiding wasted trips and email expenses. I can honestly say that the big tour companies are in business to get you to go on a tour and buy their product. They don't care if you get married. The socials were about like going to a fraternity party. I was embarrassed to be there. I thought they were demeaning to the women as well as the men. I would recommend your service to anyone who is truly serious about getting married and cannot find a good woman in the U.S. I met the finest women I have ever met in my life while in Eastern Europe and found the one I will spend my life with.
Steve Chilcote