Jim Sherwood from San Juan NE
Elena Bulygina from Moscow, Russia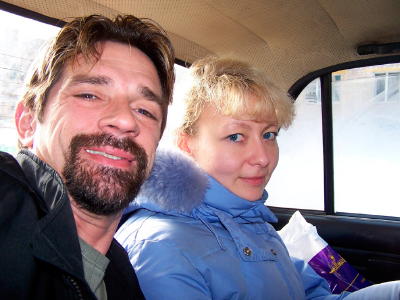 For the past 7 years or more, I had been bouncing around on a number of dating websites, looking for the one girl to "make my dreams come true."Yahoo Singles, Adult Friend Finder, and Match.com. At one point a couple years back, I received a note from a very cute russian girl, who sent me several pictures, and seemed very sweet. We exchanged several letters, in which she became overly-adoring, and seemed to be infatuated with me. Eventually, she hinted that if I could just send her $500.00, she could come to America to be with me.
I decided to investigate. I looked up the agency she said had quoted her the price for the flight, but couldn't find it. I asked her for the manager's name and number, so I could contact him, but she couldn't (or wouldn't) give me any information. It seemed to me that she was trying to scam me.
I then searched on the internet for a site which deals with Russian marriages, to see if I could get some advice. I found a site called
Encounters International. When I contacted Natasha Spivack, at Encounters International, she told me that I should under no circumstances send money to any girl in Moscow (or anywhere, for that matter).
It was not until many months later that I started writing Elena, through Encounters International. Right from the
start, we had a wonderful relationship. We immediately had a smooth rapport, and felt a warm and compatible chemistry.I had had an experience with getting to know a woman through email only to find later that there was absolutely NO chemistry when we finally met in person. I couldn't help but envision the most dramatic worst case scenarios, and I could not live with the uncertainty. I decided that I really needed to find out as soon as possible whether the chemistry we were feeling was real.
I am happy to say that there was not even a hint of awkwardness in that first day when we met. It feels as if we have been led to one another by ALL things - fate, truth, nature, life, and especially God. I cannot help but be thrilled and relieved that our love was not just a fantasy. As it turns out, our chemistry is absolutely incredible!

Jim Sherwood
March, 2006