Tomiken S. from Virgina
Natalia Rudenko from Krivoi Rog, Ukraine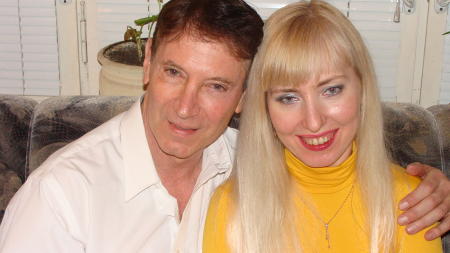 Tomiken Von Kendra is back from Ukraine and is engaged to Natalya from Krivyy Rihh!!!!
I feel a renewed excitement in life (jizn)!!!!
Its happening, that special 'something' that most of us want, but seems so ever elusive. Life of course is good, however, I feel like I've been in a fog, on and off for the last few years, and now, I'm feeling things and experiencing things like I am rejuvenated!!!! Life, is leaping off the page to me.
Living in the Washington DC area, it seems that the women here, at least the ones I had been meeting, are on a work-aholic track that is just not suitable for me. I was looking for someone, a partner, to fall in love with and share my life, and NOT be so devoted to our occupations, that we forgo ourselves and our families.
I am not necessary looking for a younger woman, although I have met men my age married to women in their 20s with both being very happy. I have been looking for someone who is 'like minded' who can be my best friend, true love, honest, respectful, kind, self assured, and is wanting to share life as well as have their own private moments. Where do I find such a woman, Venus? Im sure there is one in the USA but with my heritage and focus on Russian/Ukrainian events and gathering in the Washington DC area, my belief is that such a woman is somewhere in Eastern Europe.
I ventured to Kiev/Kyiv last 1 May over their holiday, but I had not contacted any women prior and I was introduced to a few (had potential with 1), and being a member of the International Police Association (IPA), met with fellow police officers and had a great time bicycling. This time, with my trust in my agency (I have known owner Natasha Spivack for over 9 years), I had emailed a few women and narrowed it down very quickly to 40 y/o Natalya. Natalya had lived in Kyiv for 2 years, a few years ago when she was briefly married and moved back to her home town Krivoy Rog/Krivv Rihh, north of the Crimea, about a 9+ hour train trip from Kiev/Kyiv to raise her son. Now, in Kyiv her son Denis, goes to the university, studying gymnastics.
Over 5 months, our emails said so much about us and not just what we thought we were and what we felt we were looking for, but also or dreams of the future. Needless to say, tons of common interests starting with family, the gym, nature, activities, music, events, same type of food,,, and not only was she beautiful looking on the outside, but also on the inside, her intellectualism, creativeness (sense of style-degree in creative design), kindness, positive self image and positive outlook evident. Natalya designs and makes clothes so I could set up a sewing room in the house for her and I contacted several upscale, Georgetown level woman's shops and they seek and keep lists of women who do this for the elite female clientele who want to show up at Washington high society events wearing a unique original, paying 'only' about $1-$4k (Natalya would get 1/2) and not the $5-25k for a designer custom made outfit. This is open for her to pursue, to the degree she desires and she is also wanting to take classes in Psychology (we could take a few together) and learn to play the piano (that's for her only, not me); ALL in my mind very constructive aspirations and direction.
Since neither of us believes in endless emails, I committed for just over 2 weeks in February, just to see her, and her only (this breaks from the mold of all agency advice to line up several women but I threw caution to the wind as I wanted to focus on Natalya and Natalya only). I also planned to meet with an International Group in Kyiv that I was a member of but that of course, was a big secondary.
I left DC 2/6, 14 deg. f (it was later a warm weekend). On the flight over, I sat next to a disgruntled Ukrainian guy who had vacationed in Miami during the frost down there; No complaining about the 'wasted vacation' so that in itself was a reminder for me to keep a positive attitude no matter what. I arrived in Kyiv 2/7 11:00 10 deg. c no sleep. My agency (headed in Kiev/Kyiv by Alla, known to me from last time and of the same high caliber as Natasha and in Kiev/Kyiv, a tireless constant assistant who puts forth huge efforts to address every detail) had me picked me up at the airport by her driver (Eugene) and booked me into the BEST apartment in the city!!! On the 'Gucci' (L/G) passageway off Maiden/Independence sq and I could just sit on my balcony and watch the action, but of course, I had to get down into it.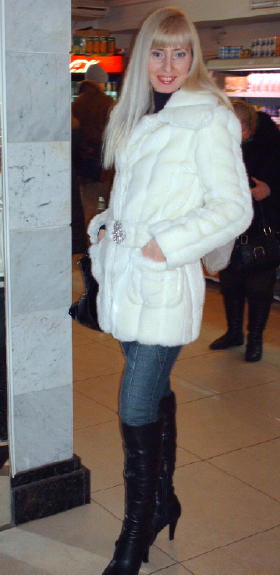 Natalya's train came in the next morning at 05:38 (Ukrainian trains are on time), 2/8 Sunday and E.I. agency (Alla) had Eugene and a translator (Victoria/Vica) pick me up at 5AM and I met Natalya's train with 29 roses in hand. A crush of people and we missed her at the tracks so we went back into the main terminal (a gothic from soviet days) and there she was, wearing a snow white designer (her own) fur (synthetic, more on that later) coat that she had made, skin tight jeans and knee high black 3 in spike heeled black leather boots (picture uk nat5). The translator said, I thought you said she was 40, I saw this women down on the other side from where we were and passed on her thinking she was 25..... and as I got closer, I said to myself, OMG, OMG, OMG!!! she looks 25! I knew she looked fantastic from her pics but in person, TOTALLY INCREDIBLE!
I do believe that beauty is a combination of many things, not just physical, but also intellectual, and inclusive of many factors: body movement, eyes, mannerisms,,,, CHEMISTRTY!! In her profile she lists herself as 5/10, 125 but with the heels she was taller then me (I planned for this, and packed my 'cowboy up' 2" heel boots for the promenade down the sq and main drag Krashadick, arm in arm, she in brilliant white fur and me wearing my full length wool coat, we made a very stylistic pair as we both instinctively started walking at the exact same quick pace). She sees me approach, and lights up with her $1mil. photogenic smile :)
In my mind, physical beauty cuts both ways. On the trip to the apartment I thought of women who I had known who were very beautiful, but craved the attention of all men, not just me, and that would be a nightmare for me since im a 1 woman man. However!, Natalya and I had such great honest Emails, I felt I needed to just focus on that and think about all the other commonalties that came out of our exchanges and see what I shall see (as she shall see also), what other personality traits we have, good and not so good and (Ugh), bad.
So the taxi arrived at the apt. and driver Eugene gave me a 'nod', I had hired the Agency's translator, Victoria, for 5 hours so up we went and after Natalya freshened up, a bit, we sat down for tea and coffee and something to eat (Natalya brought scratch pasta salad and chicken that tasted so good I had to control myself from wolfing it down).
The conversation was free and easy with good communication an a bit of humor (this is where a good translator is worth their weight in gold). So after several hours of face to face, filling each other in about what was current, and relative (past and future), and with some attitude, feelings, and philosophy, etc. I told Victoria she had done more than expected and we could then rest, so she left saying she was ready and available to help us and answer any questions that might come up in the future. Her offer turned out to be an invaluable resource for sure. So, Natalya and I went to our rooms for a nap.
Early afternoon, we exchanged gifts, I brought hooded UVA and Va Tech. sweatshirts for her (picture uk nat 6) and her son, a watch with dangling hearts on the strap and I asked her to keep it on Washington DC time as is, so she can keep it in the box, with the top off, on an a shelf and look at it and think of Washington DC time (and me) when she looks at it. Then, when she does get her K-1 visa, she can put it on as she boards the plane so when she arrives, she will already be in sync with what will be her new life (as it turned out, a few days later she asked if she could wear it now and of course I helped her put it on her wrist; hard and fast rules, nyet!). She gave me an engraving of a Ukrainian village with a just married couple riding on a horse together and a warm wool scarf she knitted herself, like the sweater she was wearing.
All I can say is that the next few days were like, some of the best days of my life we even workout together watching MTV/VH1)! WAY too much to try to report here, although we clowned around the apartment a lot (picture uk nat 13, 4) and walked up and down Kradshadick a lot taking in all the sights (pictures uk nat tk 3a, uk nat tk 3b) and I proposed marriage to her after 2 days (we had been emailing, telephoning and video internet Skyping for 5 months), by slipping the ring on her finger and showing her it had a companion wedding ring and said, 'will you be my wife'? she hesitated (there is a language difference but she is self studying English and I thought every woman would know the words, with all the Hollywood movies and the like). She called her Mrs. Katerina who spoke and taught English (70y/o long time friend of the family who had translated our telephone calls many times and actually, knew me fairly well from them as she would always ask germane questions, a-la Barbara Walters). I took her left hand and slipped the engagement ring on her finger and hummed "da dum da da"; Natalya was confused so she called Mrs. Katrina, who once on the phone asked: asked, "are you proposing marriage"?, I said yes, she said: PUT NATALYA BACK ON THE PHONE!. Natalya listened, hung up, then turned and gave me a long slooooooooow kiss, looked me straight in the eyes and said, DA! (picture uk nat ring).
We had her son over for dinner the next day (I hired the same translator, Victoria again as I wanted her son to feel free to talk to me and me to him) and that went very well. He's training to be an Olympic gymnastics coach and I had previously contacted Kerri Strug for information on this in the area since as it turns out, she works for Treasury, my former department and then, I purchased a private compartment for Natalya and her son and I to take the over night train south, to her home town, Krivoy Rog, located at the top of the Crimea, to meet the rest of her family and friends.
On the train, Her son is listening to his MP3 player while Natalya and I reread some of our past emails both in Russian and English that we have sent each other over the last 5 months. She gets tired goes to the bunk on her side but starts pinching me with her toes across the aisle and that escalates to pillow fighting, with anything else we can grab, cloths bags, and even improvised weapons, like a rolled up towel and wadded up sheets; So its like pooof!, I'm 15 again. A truce is called which she break repeatedly but I cant sleep on trains or any moving vehicle anyway.
We arrive, with me actually sleeping about 10 min. Natalya immediately goes to work with the taxi cadre. This is a task unique to Ukrainian women and even her son stood back. If a taxi driver sees and American man (me), the price triples. However, this becomes a chess game as Ukrainian women will stand at the street and hold there hand up and plain cars will pull over to negotiate becoming, 'instant taxis' for a one time trip. The cabbies know this so its like a game of 'Mexican stand off' and I am told that non-Ukrainian woman should not even attempt this 'sport'. Being aware of this I pull the bags from cab to cab and just as a private car slows down, a taxi diver pulls in front and a 'deal' is struck. I arrive at the hotel, the best in town, she sees that im checked in (my credit card was rejected 3 times but luckily, I packed another in my luggage that worked just fine (hadaSHa)), got me up to the room with my (oversized) luggage and I didn't even have to tip her $5.
After a nap and a 2 hr walk around the city center, buying some additional presents for her family, potted Roses for her Mom, potted African violets for her sister and niece). For her Dad, THE one I felt had to seek his approval from, I had previously purchased a plac at Ross ('dress for less') "FAMILY, the true happiness of the soul", and I translated that in Russian in huge font and taped the translation to the back. I put on my perm press suit and dress shirt (for traveling only) sans tie, practice my speech, words ripped from my Russian/English booklet and she picks me up at 18:00 on the dot and we taxi to a sushi restaurant where her family is seated at a large reserved table in the corner.
At the family dinner, I stand and start by saying: "Ochyen, Ochyen pree-YAtna paznakOmeetsa" (Very very nice to meet you). Natasha and I sit at the head with Mrs. Katerina (the long time family friend who speaks English) at my left ready to assist. I immediately order champagne (forgoing the traditional Slavic tradition of Vodka, but after all,, I am American). After ordering, I check my 'cheat sheet slip' and tuck it away, ready to pull it out if needed, and stand: Menya zavoot Tomiken Von Kendra; Dva vas-syeem (2 families), Natalyas (I bow my head to father) Anatolie, Nadzeda (I bring her Mother the potted roses), Ludmilla (Luda) and Lire (Natalyas sister and 19y/o niece (Lirlra), I bring them the potted violets), Denis and Natalya (I hold up Natalya left hand showing the ring) and Mrs. Katerina (I give her a softball sized vase with a scented candle inside); continuing, I say "Von Kendras' (I have pictures of Kristin and John, Derrick and Jason in a folder, hold it up and hand it to Mrs. Katerina to be passed around) seechAs, adeen syemYA (now, 1 family); I turn to Natalya, hold up my glass and say: Na jizn! (to life)". Everyone click glasses, 'JIZN'! rings out, and we drink (thak you (Spaseba) English/Russian dictionary). I could not have planned this better and the tone set by this, propagated throughout the entire event.
I take lots of pictures of everybody and ask the waitress to take several of us as a group (picture uk nat fam 12). Toward the end of the meal, with Mrs. Katerina translating, the tell Natalya's parents that I would not be isolating Natalya and most probably her son who will graduate from the university in 2 years and I would probably bring over, from her family as I would plan for yearly visits with us coming back for the holidays, me for 2-3 weeks and possible with 1-2 of my kids and Natalya staying maybe 2-3 months if she so chooses. I spoke the old American cliché "you are not losing a daughter, you are gaining a son". At the end of the evening, her father gave me a very strong handshake and a strong squeeze of my other shoulder with his other hand. I figured, I was accepted. Of course, Natalya's acceptance of me is PRIMARY, but with E. Euro. women being extremely family oriented, I very much wanted to be accepted by them and my concern was that since I was just 9 years younger than her father, this could be a problem even if they liked me personally. But, as with Natalya, my acceptance, not a problem (even her niece said "you both look alike and good together").
Back at the hotel, with Denis waiting in the taxi out front, Natalya walks me to my room and gives me a long tender strong (she's her fathers daughter (he worked in the mines) all right) hug and with a quick kiss she turns and 'clicks' her way (still, the 3" heeled black leather knee high boots but with skin tight spandex pants and off the shoulder top both with her geometric gold paint splashes (she makes her own clothes and those that she buys, she decorates) back to the elevator.
Now I know all this sounds fast. But neither one of us are desperate. We both have good lives but we both want the same future: to share our life with 'that' someone special and synergism comes into play, where the pieces we both bring together become greater than the sum of the separate parts. Also, I know it will take 3-6 months for a K-1 visa and then once she is here in the US, 3 more months to get married with the 1st part of that 3 months, she needs at least a month or 2 in the house to decide if she wants a life (lifestyle) with me, and with what the DC area has to offer (Russian/Ukrainian events and all others). So at this point, I'm just about 1/2 way there and I know having 2nd thoughts and getting cold feet is somewhat common, but that is also part of the process and if one or the other or both of us decide not to make it to the finish line, better to find out earlier rather than later. As the old saying goes: better to have tried at love and lost than not to try.
After a good nights rest, the next day, the included buffet brunch had rich tasting hot coffee, with the food refreshed every 1/2 hr, I put on my jogging outfit. I opted for a USA t-shirt with old glory blazoned on the front,($4. (3 for $10.) from a DC street vendor), and I recommend wearing logo micro fiber biker shorts, lest the locals think one is escaping from a lunatic asylum and BLACK athletic shoes, fanny pack. I didn't realize the air was thin but my body told me. Through the park, over to the main drag, down to the traffic circle where I could catch my breath I jogged up to the plastic Ronald McDonald statue at the traffic circle and slapped his hand. I was a curiosity all the way since it was about 2c but at McDonalds, some 11 and 12 y/o kids came up to me and in halted English (im sure, better than my Russian speech last night) asked "what sport"? I said while motioning, jogging, bicycling, kayaking. They asked "what eat"? pointing, I said "McDonalds nyet". Apples, bananas, vegetables, a little lean meat and fish (I felt like the surgeon general, making his yearly speeel), made a fist and held it in front of me like a hand-shake and they immediately smiled big, and they fist bumped my fist, (MTV/HBO, world-wide).
Late afternoon Natalya picks me up and we taxi to Mrs. Katerinas. I bring my laptop which is full of pictures. Its 14 February, valentines day but not to worry, I bought a special present prior to my trip, a 'coffee' cup with hearts with a red fuzzy soft stuffed toy 'cupid' bear inside and every time she will use the cup for her chai tea, it should remind her of me. She gave me a set of slippers and socks and a Ukrainian speaking red 'squeeze bunny" with hearts on it along with jars containing all types of food for late night snacks if I get hungry in the hotel room.
We arrived at Mrs, Karetinas for a night of deep exchange, and I arrange for 4 months of English lessons and help with the Embassy documents, services Mrs. Katerina has provided many times for others. I ask if I can check my email on Mrs. Katerina's granddaughters, Katya's computer and to email Jason with a quick IM ENGAGED! And guess what? She has 'WOW' up and I ask her what level and she's an EIGHTY (my sons approximate level!).
The next day, it is sightseeing (Ukrainian women are very proud of their towns, (pictures uk nat tk 8; uk nat 20). I see the statues, monuments, big church, rivers, the new stores, the waterfall, the 'lock bridge' which I brought a lo9ck for thinking it was for 'engaged' people but I will have to wait as it is for married people), etc. Then dinner at Mrs. Katerinas (food, food and more food!) and she invites her neighbor who recently returned from NYC. Good conversation all around.
Monday, the 16th prior to the evening train back to Kiev/Kyiv\fs, Natalya negotiates a reduced rate for 1/2 day and I had thought the discussion was a bit heated, but it all was just part of some standard interaction if there is a difference in opinion as I have seen this in various other situations both this trip and last.
We taxi to the train station and once secured in our compartment, Denis says: follow me and as I round the corner to the exit stairs, there is Nataly's entire family standing on the ramp! Her sister, hands me a bag of presents (I know NOT to open them in front of them and I give her a big hug and 3 cheek kisses (left, right left), hug and 3 cheek kisses to her mother, a STRONG hug from her father and he kisses me on the cheek and I kiss him back on his cheek a hug and 3 cheek kisses for her niece. WOW! What a farewell!
Once the train pulled out of the station, I open the gifts. A porcelain family of birds, Papa, Mama (Anatolie, Nadzeda, and 4 little ones (Luda, Natalya, Denis and Lirlra). Also, to books about Ukraine and Ukrainian culture. I am deeply touched.
Later, we eat chicken and pizza (homemade of course, Natalya is a fabulous cook) and afterward, I pull out the map and book I bad bought when I was jogging, about Kryvyi Rih with the book being in both Ukrainian and English and Natalya and I look through it prior to retiring. Natalya falls asleep while we hold hands across the aisle. Me as always, awake almost through the night and after arrive in Kyiv at 05:37, this time there is a trace of snow on the ground. Agency, Alla has a car and driver waiting to drive us to the apartment and Denis taxis back to his University.
Our last week together and again way too much to write about in detail now, however, I feel I should note that our first day back, we both had of a bit of moodiness, kind of like how one feels a lull after a momentous event. I called Victoria and asked if she was free to join us for dinner that evening. This was exactly what was needed and we dined in a restaurant with a tropical motif. Then a few days later, we planned to go to the cinema for a movie at 5PM. Natalia likes a lot of preparation time and at 10 min. to 5, I point to the clock and she nods and using my Russian/English dictionary I say "Cinema move start" equals "next Cinema movie" and she nods again. I return to my laptop and continue my transfer of pictures and at %:05, we leave and walk to the cinema at 5:20. I asked, "movie started?". Da was the reply then I turned to Natalya and said "next movie", and Natalya became confused so we called Mrs. Katerina and I said I don't like going to movies late so we can shop for CDs and go to the Internet Café till the next one starts And That Natalya was aware of my preference. HHHHHMMMMM! Our first little spat! As we walked down the street she didn't take my arm so I sort of pinched at her arm a bit and she stopped, smiled and off we went, arm and arm.

Again the second week was much like the first, shopping each day (picture uk nat kiev st1)(both of us exercising while watching MTV/VH1 more meetings with my police group, with Colonel Boris of the Kiev/Kyiv section International Police Association (I am a member of the USA section), arraigning for a tour of their 'Strike Team' (read S.W.A.T) facility, their HQ and another at the uniform fabrication faculty where uniforms of all Ukrainian police are manufactured. This was of high interest to Nataliya since she is a clothing designer and they allowed her to 'model' a generals coat and hat (picture uk nat 34a). She took note of the excellent fabrics and all of the hand stitching that is required for many of the dress uniforms. Later a courtesy call to the US Customs and Immigration attaché at the US Embassy.
The K-1 fiancé visa process will be step by step from here on.
Saturday, Colonel Boris has invited us to his home and we metro and trolley car to his neighborhood. He greets us at the stop in Military uniform. Our gifts, I bring flowers and candy. Another full meal with many police stories (I still have some left to tell) and then afterward, taxi to Agency Alla's business office to skype video internet conference with Natashsha Spivack, agency owner, Washington DC and personal friend. I exchange wonderful stories and she says she hasn't seen me this happy, ever! After settling my account and Natalya is given a to do list and documents that she will need to fill out, we taxi back to the apartment and shop for the next days meal (Local produce and fresh fish and meat).
Sunday, 22 February (anniversary of Krivoy Rog Ukraine Freedom Day of the Great Patriotic War) our last day together, we spend lazy day, just getting out for a walk and then packing. That evening, I put Natalya on the train to Kryvyi Rih and like her family did for us, wait on the platform until the train pulls out of the station. I stood there about 15 minutes as we waved, winked, nodded,,, and I could see she was crying & I tried to make a happy face but she nodded nyet and just wiped her tears. About 10 min. into the wait, she tried to indicate that I should go and get warm but it was obvious I was going to stand there no matter how long it took. As the train started to move I reached up and pressed my hand on the outer glass and she did the same on the inner glass and I moved with the train with my hand 'held with hers (gesture wise) for about ten steps and off it went, into the distance. Back at the apartment, its so quiet, and cold, I miss her already. I almost imagine her in the kitchen cooking or dancing in front of the tv. I pack for my flight the next morning. Again, not very much sleep as I was running on adrenaline and par for the course, no sleep on the plane.
The 21 hour trip (door to door) gave me time for reflection. She defiantly has her preferences, cleanliness, good home cooked food, fashion (she put on makeup just to go to the store), moods and of course I have mine.
With us being so close, virtually 24/7, differences did arise and we worked through them as we will work together as inevitable differences will always arise and it is our choice to always work through them, together :)
Home and exhausted, at 11PM. A bit of sleep and at 9AM Tuesday, I noticed Natasha Spivack and Alla were on Skype so I checked in with them and asked Alla to call Natalya and tell her I was home safe and sound and gave a full report to Natashsa. I was a happy camper (picture uk tk1). Then I started this email to Natalya that I was VERY, VERY (Ochyen) happy. Let me tell you, it is wonderful to have someone to report that to.
Im starting to fall in love and it feels SO GOOD!!! I am on my way to a new life and I hope I don't get cold feet and revert back to being on my own. I had been essentially by myself for almost 10 years and Natalya for 20 so it will take some adjustment for both of us. As the old saying goes: be careful what you wish for, thou withes might com true.....

Best to all,
Tomiken