Annual Memorial Weekend Social
Swimming Pool and Barbecue Party
Saturday, May 26, 2012 at 5:00 PM
Woodley Gardens Swimming Center
850 Nelson Lane, Rockville, MD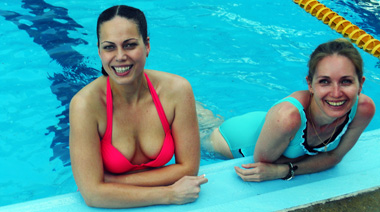 Join us for Encounters International most popular party of the year - Swimming Pool and Barbecue Social!
Some of you had been attending our Swimming Pool parties for years, fist as singles, then as couples and then as couples with children, others have never been to any of the parties yet. This month EI invites you all to Rockville Swimming Pool for our annual reunion and a great day of fun and romance.
Party details and answers to your frequently asked questions:

1. Bring your swimming suites and towels. There are lockers available to change clothes. You don't have to swim or change into a swimming suit if you don't want to. Swimming is an added value to the social and not the other way around.
2. Dress as your heart desires -- from shorts to cocktail dresses -- everything will go and will be acceptable and welcome.
3. Bring a picnic basket with food. Tables and two gas grills will be provided by the pool's administration. We provide our own food and drinks.
4 Bring your cameras. Swimming pool parties are great for photo sessions. Have your photos taken and update your profiles. Just look at the photos on this page, taken at the Pool party 2011!
5. Although this is a community membership swimming pool, Encounters International members have complimentary passes, as John Bell, the owner of the pool is EI former member, who had been happily married for 10 years now to one of our Ukrainian ladies. Just tell the receptionist at the entrance desk that you belong to EI and you will have the 'red carpet' welcome.
6. The party starts at 5:00, when the general public will start leaving the pool and we'll have it all for ourselves. The pool is open until 9 PM.
7. Swimming Pool has a wood deck that usually converts to the dancing floor during our pool parties
8. You need to be a member of a trial member (for gentlemen only) to attend.
9. Your children are welcome!
I can't wait to see you there. It is a highlight of the season for me.
The Secrets of Tantric Love Seminar and Shish Kebab Party
Slide show from April 28, 2012 Social
For those of you, who attended Rick's seminar on Secrets of Tantra and who are interested more in theory, I have a book Idiot's guide to Tantra. Those who are interested more in practice, keep attending EI parties (smiles!!!)