Saturday Socials is a unique feature of the Encounters International client success model
Last Saturday of every month Encounters International opens its doors to host a social for its single members, its engaged and married couples and its Get to Know Us members..
Unlike any other singles party Saturday socials are unique for many reasons. First and foremost, they are unique, because of the warm and friendly home atmosphere of these socials and, of course, because they are designed to bring together single American men and Russian/Ukrainian ladies residing or visiting the USA.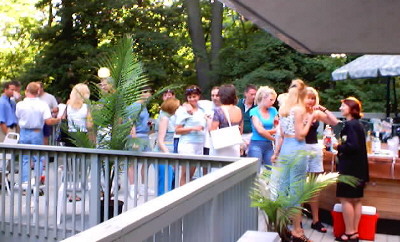 Normally, the socials are held at EI Headquarters in Washington DC. Everything there is to make the atmosphere romantic and very interactive. Occasionally, Â we make special arrangements to have our socials in a restaurant,a dinner theater, a swimming pool or a bar.
Sometimes we have "special guests" at the socials. They are clients with special entertaining skills, like Tony C., a magician, who performs in clubs or Rollin Weihman, the owner and the performer in the Riverside Dinner Theater. Simply put, there is always something new and unexpected at each party and no two parties are alike.
Here is the schedule of our socials for 2018.
For detailed announcements check What's New
| | |
| --- | --- |
| | Wine, Cheese and Russian Samovar Tea Party. |
| | Barbecue and Dance the Night Away Party |
| | Mid Summer Night Dream Party |
| | Margarita Madness Party |
| | Russian Halloween Party |
| | Thanksgiving Day! |
| | Christmas/New Year's Holiday Season Party |
| | |
Our socials are free. You can expect that there will be plenty of food, plenty to drinks and plenty of like minded people to socialize with and find your match, as well as  good music to dance to or simply enjoy. Our socials are held in a no pressure atmosphere, where you can be yourself. No wonder, that for years EI socials have been giving life to countless relationships, engagements and marriages.
Come and see for yourself. Experience the spirit of love and friendliness that is always in the air during our socials. Enjoy the beauty of Russian women and their natural femininity that they bring to the relationship. Unless you are already a member, joining as a Get-to-Know-Us member secures your personal invitation to the next party.