Marina, Beach and Boat Party
August 31, 2019 at 12:00 Noon
Pier 7 Marina Resort at Edge Water, MD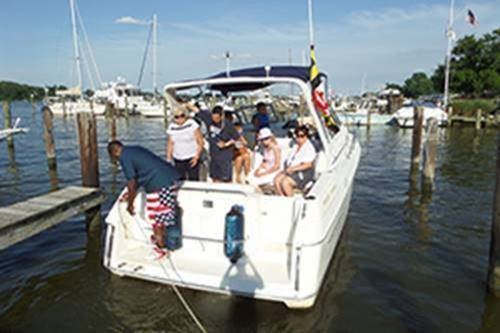 August 31 is the last day of the summer season and we want to make it memorable. Last year one of the most memorable events was the Beach party. Walter Blair had invited everybody in the EI community to his boat at Pier 7 Marina last year and we had a fun day! Some of us had spent several hours on the boat enjoying the waves, the scenery and the thrill of the whole experience. Others stayed on the beach swimming in the warm water and enjoying the taste of the grilled shish-kebab. The near-by restaurant deck offers the most beautiful view of the marina and some couples broke away from the beach to enjoy a glass of wine or beer there.
The experience was so perfect that we asked Walter to do it again for us. He agreed and I am happy to announce that our August Saturday Club social is a Private Marina/Beach party!
The party is free.
Parking inside the gates of the Pier 7 Marina is $10.00
Beach and picnic chairs and facilities are available, but you are welcome to bring your own beach gear and floating devices.
Grills are available, we all just need to bring the supplies -- food and drinks to share.
Pier 7 Marina Resort has rental jet skis, paddle boats and kayaks.
Please RSVP by returning this e-mail.
Приглашение провести субботний день на частном пляже
Pier 7 Marina Resorrt at Edgewater, MD
В субботу, 31 августа c 12 дня до вечера.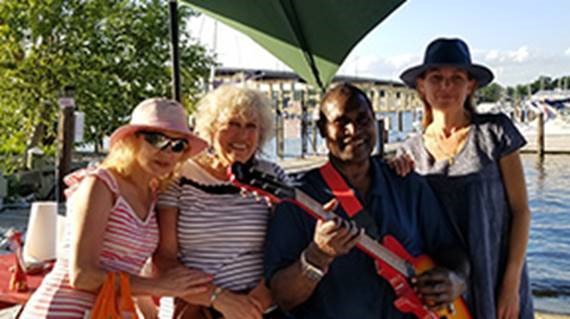 31 августа - это последний день лета и провести его надо так, чтобы он запомнился надолго. В прошлом году таким запоминающимся событием был вечер встреч на частном пляже. Walter Blair предоставил такую возможность нашему клубу и все, кто приехал, получил огромное удовольствие!!! Некоторые провели несколько часов в открытом океане на лодке-яхте, которой Волтер мастерски управлял, другие остались на берегу, наплавались в теплой воде залива и продегустировали шашлыки в свое удовольствие. Некоторые разбились на пары и уединились на красивейшей веранде ресторана с холодным коктейлем или пивом.
Настроение и воспоминания были настолько прекрасными, что мы попросили Волтера повторить то же самое в этом году. Он согласился и я рада объявить, что наш июльский субботний вечер встреч будет 31 августа 2019 года на пляже Pier 7 Marina Resort in Edge Water, MD
Вход бесплатный.
На пляже имеется платная парковка $10.00
Столы и грили будут предоставлены на месте. Еду и напитки приносят сами участники.
По желанию, вы можете также принести с собой надувные плавающие срества раскладные пляжные сиденья и т.д.
Пожалуйста, подтвердите обратным письмом- ответом свое участие.
Если кого-то нужно будет подвезти, сообщите. Я организую.
До встречи в субботу!
.
.
.