Saturday Social @ Riverside Dinner Theater
Saturday, December 1, 2012 from 6:00 PM to 11 PM
95 Riverside Parkway, Fredericksburg, VA
Normally, Encounters International does not have a Saturday Social in November to give our membership time with their families during a long Thanksgiving weekend. But something special is going on and we could NOT resist letting you in on it!

This year as a special Holiday Treat  we want to invite our "EI Family of Clients" to a special event on Saturday December 1st. We invite you to the world's most beloved musical The Sound of Music

This will be the third Broadway musical that Rollin Wehman, the owner and the director of Riverside Dinner Theater extends his invitation to his fellow EI members. Unlike the first two musicals "Hello, Dolly" and "Fiddler on the Roof" with their match making theme (so dear to my heart), The Sound of Music is just an amazing love story with a very happy ending.

As a little girl I was fascinated watching it in a Moscow movie theater, as an adult I appreciated watching the Broadway show, and now I am excited to experience the combination of fine dinning and a great performance, that the Riverside Dinner Theater is so famous for.

Join us for the evening of music appreciation in a company of other EI fellow members. As usual, we'll have our own tables for 4 or 6 people each.

More Saturday Social @the Dinner Theater Details:
RSVP your ticket by paying $20.00 either in cash or by check made out to EI and sent to 4244 Blagden Ave. NW Washington, DC 20011. It is a special EI 66% discount of a regular price of

$60.00

RSVP by Friday, November 23. That is when the final count is due. It is a"blockbuster" musical and almost every performance is sold out, so seating is scarce and you do not want to be left out if you miss the deadline.

We'll meet at the Theater's Ticket window  Saturday, December 1 at 6 PM

Arrive for dinner 6:00 - 6:15 PM
Performance begins at 8:00 PM
Performance ends at approximately 10:30 PM
Mark Your Calendar:
Encounters International New Year's Party
Saturday, December 29, 2012 from 7 PM to 11 PM
EI Headquarters @ 4244 Blagden Ave. NW, Washington, DC 20011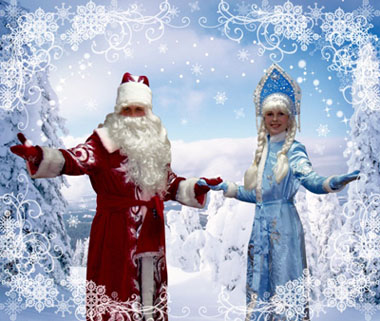 EI New Year's Party Russian Style is famous with its special romantic aura in the air. No wonder that couples choose this day to announce their engagements (Curtis and Maria Johnson, New Year's Eve party 2012). It is too early to make predictions for this year's announcements, but one thing remains certain -- the New Year's Party is one of the most popular parties of the year. I have already started a list of the ladies, who will fly to Washington from Russia just to attend the party.
Another thing that makes a New Year's Party Russian Style different is that we cook a lot of food. Home made Russian traditional New Year's menu will impress you with its taste and variety, and we will have lots of drinks (of course!), then we will dance till we drop ( that goes with the territory), and we'll have a New Year's Piano Concert and sing-along Russian/Ukrainian and American Christmas songs.
In short, we'll try to have all the fun we can have, as we, Russians, believe that we'll spend the rest of the year just the way we see the New Year in. So, it's better be good!!!
RSVP for the New Year's Party early! More details will be posted later.