Spring Social at Bambule in Bethesda MD
Saturday, April 25, 2009
from 7 to 11 PM
5225 Wisconsin Ave NW Washington DC 20015 ph:202.966.0300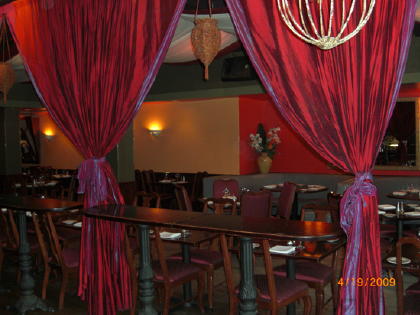 All EI members and couples, as well as Get to Know Us members are welcome to join us for our April monthly social at Bambule Restaurant and Lounge in Bethesda, Md. This social will offer a lot of diversity. The evening will start at 7 pm with introductions, meeting, mixing, mingling, talking, and ... all in all, just socializing.
The restaurant lounge with arm chairs and leather couches is very conducive for that. From 8:30 to 11 pm flamingo guitar player will entertain us with his live presentation. And finally for those, who had found their matches at the earlier part of the social and want to stay late for dancing the restaurant DJ will be playing International & Latin Music from 11pm to 3 am. There is no cover charge for this.
Another attractive feature that Bambule offers is a free underground parking (off Wisconsin Ave. on Jennifer Street right under the restaurant.) You will need to keep the parking tickets and have them stamped at the Bambule counter for your free parking. Also, Friendship Heights Metro is within walking distance of Bambule.
This will be the first time for the EI community to get together in this popular spot. I hope that we all will like it and want to do it again and again. Looking forward to enjoying the company there!