Russian Christmas Season Party in Silver Spring, MD
930 Wayne Avenue Silver Spring, MD 20910
Saturday, December 27, 2008
from 5:30 to 10:30 PM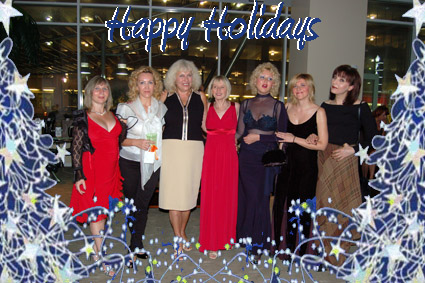 From Russian Carols to you: "It's the season to be married... la..la..la..la.....la-la-la"
I am pleased to announce that our last and the most attended party of the year, our Christmas Party will be hosted by Marina Davis at the same Party Room that we enjoyed so much when we had EI September Wine Tasting and Makeover Party.
The program will include wine and cheese for the introduction hour of the party, dating games and entertainment to "break the ice" and make people comfortable to get to know each other, dinner, drinks and, finally, in the latter part of the evenings, our Party Room will become a special Russian night club - challenging the hottest spots in Moscow! Dance to Retro and modern top 40 hits to keep the holiday spirit ringing in throughout the night!
As you know, Encounters International socials are for marriage-minded people only and for the couples who were introduced by EI. Do not miss this monthly opportunity to possibly meet your soul-mate! Every EI party --no exceptions -- produces several new couples. I am sure that Christmas party will do more so than all the other parties together. After all, "it's the season to me married"…
As usual, we'll provide overnight accommodations for out of state Russian ladies free of charge.
Suggested Attire: Semi Formal
RSVP is required for this party by December 25.
Fees: Ladies $20.00, gentlemen $40.00, couples $50.00
All members and Get to Know Us Members are welcome!
Address and Directions to the Party Room:
930 Wayne Avenue Silver Spring, MD 20910. Free public parking is available across the street.
From Capital Beltway/I-495 N
Take exit 31B for MD-97 S/Georgia Ave toward Silver Spring
Merge onto Georgia Ave/MD-97
Turn left at Wayne Ave
930 Wayne Avenue Silver Spring
For any questions please call Natasha at 301-530-7759 or Marina at 301-828-5258
I am looking forward to seeing you all at the party.