Midsummer 'Big Splash' Swimming Pool Party
at
Woodley Gardens Swimming Center
850 Nelson Street, Rockville, MD
301-340-1012
Saturday, July 29, 2006
from 4 to 9 PM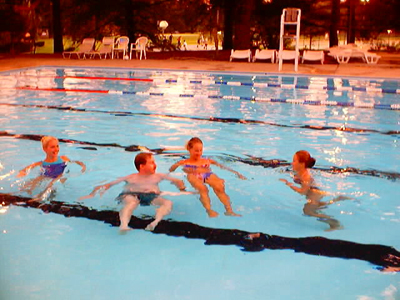 We continue to enjoy summertime and take advantage of outdoors activities as much as possible. Short of going to the beach, nothing can beat the fun of a swimming pool party during the hot days of July. That was the main reason for choosing the Woodley Gardens Swimming Pool Center for EI Saturday Club social for the second time this year.
Two months ago, during the Memorial weekend we had an almost perfect party in this swimming pool. I said "almost" because the weather was unseasonably cool and nobody risked to go to the water that somehow reminded me of the Titanic movie.
This time, in July we decided to make up for what we had missed on Memorial Weekend party. So, don't forget your swimming suits!!!
As usual, the swimming pool management will provide two gas grills and the rest is up to us. I know that cooking and eating together has always been a major part of socializing fun. We'll have plenty of that between the swimming sessions. Our tables will be set in the wooded picnic area with lots of space to be together or apart.
I've heard from our couples that Swimming Pool parties have become their children's favorite past time. Please bring your children along, have them meet each other and have fun together.
I am looking forward to having a good time with you all.
Natasha Spivack.