Celebrate Christmas with Encounters International
Family of Clients
December 25, 2004
in New York Palace Russian Restaurant
in Baltimore
From 8 PM to 2 AM
This party promises to be an unforgettable event full of Russian entertainment, Russian food, Russian live music, dances, and variety shows. If you haven't been to Russia yet, or at least, to Briton Beach in New York -- here is your chance to experience a Russian way of having fun to its fullest.
I know that New York Palace is a favorite restaurant for many of our EI couples. It provides that nostalgic atmosphere of a typical Russian restaurant -- it is far from being just a place to eat, it is the place to dance, to show off, to meet, to socialize and to enjoy. So, be ready for an unusually enjoyable experience. The special occasion calls for special celebration. It does not happen every year that our Saturday Club social coincides with Christmas Day.
The traditional Russian menu for this evening will include smoked fish assortment of lax, sturgeon and mackerel, smoked meat assortment, herring with onion, eggplant stuffed with cheese and walnuts, chicken Kiev, chicken Tabaka, pirogue with meat, assorted Kebab, Chinkali and other well known Russian dishes.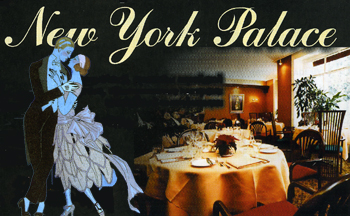 Vera Goloborodko, who had already once hosted EI Saturday Club social in her home is a General Coordinator of our Christmas 2004 Party. In the past she used to work for New York Palace restaurant and therefore she is the right person to negotiate with the owner the best deal for us. All you need to do is to call her with your reservations (with your credit cards) no later than December 20. Her phone number is 240-683-1250. You can also RSVP with me at 301-530-7759 or e-mail me.
Please make your RSVP early to get better seats.
The cost for the banquet is $35.00 per person.
Liquor is included
Address: 1111 Park Avenue, Baltimore, MD
Telephone: 410-523-7170, 410-462-1662
Directions: I-95 NORTH
Take exit #52 towards RUSSELL ST NORTH - go 0.5 mi
Continue on RUSSELL ST - go 1.1 mi
RUSSELL ST becomes PACA ST - go 0.9 mi
Turn on MCCULLOH ST - go 0.1 mi
Turn on N MARTIN LUTHER KING JR BLVD - go 0.2 mi
Bear on N HOWARD ST - go 0.2 mi
Turn on PARK AVE - go < 0.1 mi
Arrive at 1111 PARK AVE, BALTIMORE

I hope that this Christmas Day will become one of the most memorable events in life of our Encounters International community. It will be particularly memorable for two EI clients - Danny A. and Steve K, whose fiancees are arriving in the USA this month and it will be their first Christmas together in America. I am sure that both couples would not want to miss the party and share their joy with us.
I am sure that our extensive Baltimore community of EI ladies will join the fun. Once again the party is going to be held just around the corner from where they live.
Get to Know Us members, do not miss this party and you will not be disappointed.
I will see you all on Christmas Day!