If you missed the July, 2001Saturday Club Social, you missed the best one ever!
That's not just my opinion. Steve Myers, Encounters International alumni, wrote the following on the message board:
"The July 28th Saturday Club was the most outstanding Saturday Club in my memory—and I have been coming since Natasha started them!"
Steve's statement shows that the Saturday Club Socials do indeed have something for everyone at every stage of the 'process.' Steve attended with Mila, his lovely Russian wife of three years. Even though Steve is technically a former client, I welcome him and all other alumni to continue participation in the Encounters International social scene. Married or single, the Saturday Club Socials provide a great atmosphere to network, learn, and just have a good time!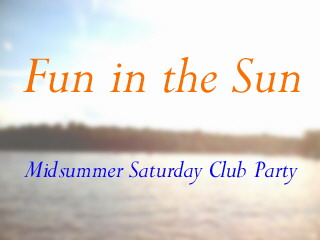 Please view the video clip recorded at the partyby clicking on the picture. If you don't have a RealPlayer software for viewing this video, you can download a free version of it
here.
If you have a slow connection
(not cable or DSL) you may want to download the clip to your hard drive first in order to improve quality of viewing.
I have to admit that the 'hype' I placed in our last What's New page seemed to raise the bar on Saturday Club Social expectations. My hope was that the promise was not "too good to be true." After the event was over, I realized that I underestimated the amount of fun and excitement we would have!
Check the EICX message board for a full report by Steve Myers on July 31, 2001
At the same time the main reason for the existence of the Encounters International Saturday Club Socials are an opportunity to meet your beautiful Russian soul mate who may be from 'just around the corner.' This means you do not have to spend the time and money to travel to Moscow or Kiev to meet the woman of your dreams.
Margarita Monk from California (left) and Yana Solilova from
Indiana (right) are viewing albums with the EI clients' photos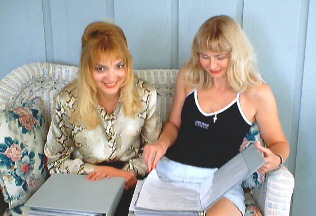 Before the events started on Saturday evening, the 'around the corner' ladies made very good use of their free time. As always, I have copies of the male client photo albums on hand. Whether the Saturday Club Social is in the office or on the road, these important resources are always available for the ladies. After some brief rest, each one devoted her full attention to a detailed study of the albums. Reviewing the photos and biographical data seemed to lift their spirits and made them forget about the long flights to Bethesda. Before anyone realized it, the party was under way!
From what I observed and discussed with the men and women in attendance, both exceeded the other's expectations. It is too early to announce any engagements now. But, I would not be surprised to be providing details about our newest Saturday Club Social success stories in the very near future! It was just that type of event for us all.
Encounters International family of clients enjoy
food, music, good company and n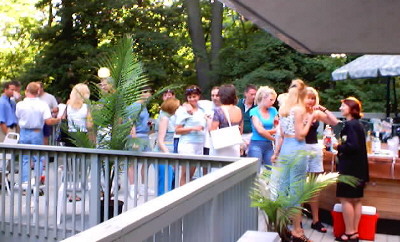 ice weather

One thing that made the July 28th Saturday Club Social a big success was our host, Joe Devados. Joe is a new Encounters International client. When he enthusiastically opened the door of his home to host our event, I don't think he fully understood the magnitude of the event or the number of people who may attend. Saturday Club Socials are quite fluid in attendance with no RSVP required. Fortunately for all of us, Joe took every surprise in stride and remained a generous and gracious Saturday Club Social host. What an initiation for a new client!
Joe, I wish you could read the e-mail compliments and hear the appreciation verbalized by telephone call about you and the event that you made a success. Welcome to Encounters International Joe. We look forward to next month's Saturday Club Social at you place also. JUST KIDDING! Somebody get Joe a glass of water.
This tradition started three years ago when John Bell, EI single client at that time offered his swimming pool in Rockville, MD as a meeting place for our Saturday Club social. This event immediately became one of the favorite activities of the year and attracted even larger crowd next 2000 year.
This time John Bell in hosting Saturday Club swimming pool party together with his wife Tatiana. A couple of months ago I announced his engagement in the post named "Encounters International Most Challenging Client." This article stirred up some controversy regarding the true intentions of the parties considering the age difference. Now that John and Tatiana will be our proud hosts at the party, the interested guests can judge for themselves if it is a marriage made in Heaven or not.
Unlike the previous party in Annapolis, this party will not be catered, rather it will be a picnic style. The grills will be available, but we'll have to bring our own food and drinks. Please do not forget your swimming suits, the water is usually very warm.
Those of you who prefer to carpool or caravan to the party can come to the EI office (8527 Howell Road, Bethesda, MD 20817) at 3:30 pm. If you want to arrive earlier and talk to me in the office, I will be available from 2 pm.