Valentine's Day Party 2001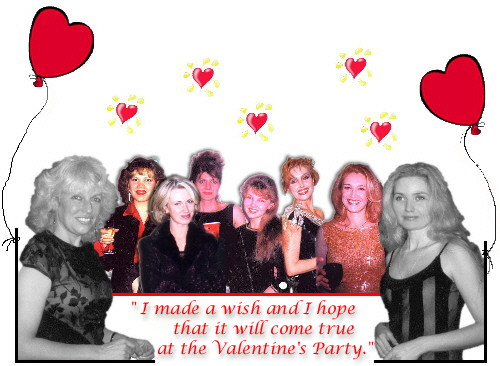 The Encounters International Valentine's Day Party 2001 is the exciting merger of our monthly Saturday Club
social and our annual
Open House
event! I am pleased to announce that on February 10, 2001 we will host the annual reunion of our family of clients along with our guests at the Bethesda, Maryland office, from 6:00-10:00 p.m.
Our Saturday Club socials have become a routine part of life for many of you. It seems like the month just would not end right without attending one of these events. You have adjusted your schedules around our Saturday Club socials! Clients and invited guests fly to Washington, DC from many states to attend the monthly events. Regrets come in when you miss one!
Today, the mail arrived with two letters from clients planning on attending. Tom S. wrote: "Natasha, I will be in Colorado until January 27th. I will fly back on the redeye so I can make it to the Saturday Club. I never know who I might meet there".
Actually Tom's last words about impromptu meetings are very accurate. You never know who you might meet. For example you might meet (from left to right on the picture above taken last month) a 33 year old accountant from Moscow who came to the USA as a fiancee of one of my clients but the relationship did not work; a 26 year old massage therapist who has just purchased a townhouse in Washington, DC suburbs after 5 years of working for this "American dream"; a 33 year old clothes designer from Virginia who holds a business visa and works in a bridal salon; a 21 year old student from Kiev who is visiting relatives in Baltimore and very hopeful that she will find her soul mate soon, a 46 year old model who is recently divorced after 5 year marriage and lives in Washington, DC, a 38 year old real estate broker from New York City who is visiting the USA the second time with serious intentions.
These are just a few examples of the women who attended the Encounters International Saturday Club social last month. While the ages and backgrounds are different, these women all share a common interest; each is marriage-minded. These women, along with the others who attend, are seeking men with the same serious interest. They don't come looking for a good time or a date, instead they know the Encounters International clients are also marriage-minded and are gentlemen of the highest quality. See, it's no accident that the Saturday Club socials are exclusively for Encounters International clients!
Our annual Open House reception is an event centered on our Encounters International couples! As the numbers grew, it became increasingly more difficult to keep up with them. So, we started the annual couple-centric gathering as a family reunion for catching up and sharing.
In addition to our Recently Engaged and Recently Married announcement pages, I am introducing a new area called, Wedding Anniversaries. David and Alla, pictured here came to our Saturday Club to express their feelings after celebrating their fifth wedding anniversary.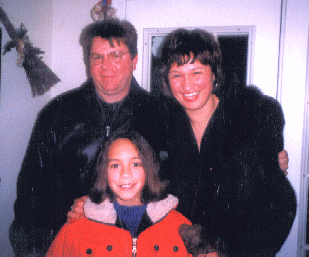 Alla has achieved an impressive success during the past five years. She is now a computer programmer working on a Government project. Alla mentioned that a difficult part of her adjustment was having her spoken English constantly corrected by family members. That made her feel that everything she said or did was wrong. Later she earned their respect when it became apparent that her income was twice as much as the income of an English teacher.

Five years is a long time to catch up on. But we had plenty of time to talk just before the couple departed. After some initial conversation in Russian, she quickly switched to English. In a voice just loud enough for her husband David to hear, Alla said, "I

look and look at all these men here and there is no one who would be

better and more handsome than my David!" David's eyes were glowing with happiness and pride.

I thought to myself, "What a great example of our Russian women! They instinctively know how to make a man feel appreciated." It's really no wonder why American men find Russian women so addictive! According to my clients' own admission, they can not happily date other women once they had spent some time with a Russian woman. Of course, I know first hand that they are right.

OK, back to the Encounters International 2001 Valentine's Day Party. As I mentioned above, this year our party is a combination of a singles' social event and an engaged and married couples reunion. As always, our 2001 Valentine's Day Party will feature Russian teas and sweets along with American snacks, beer and wine. There will also be Russian disco music and international dancing.

While the Saturday Club socials are for clients and invited guests, the annual Open House event is open for anyone who is interested in the 'Russian Brides' phenomenon. Many of you know that there are more than 300 web sites with thousands and thousands pictures of Russian women but not a single site invites you to come and to begin to experience this phenomenon in real life without going all the way to Russia. Encounters International provides this opportunity for you and more. It provides you the opportunity to network with clients and happy couples. It is a showcase of tangible success. As you know, 'success attracts success.' Therefore, I can assure you that if you attend the Encounters International 2001 Valentine's Day Party, you will be energized and inspired.

As a reminder, mark your calendar for February 10, 2001 from 6:00-10:00 p.m. to be in Bethesda, Maryland. The party is free and no invitation is needed!