EI Open House Photo Report (February 21, 1999)
EI Open House '99 was a show of talents. Barry Trent, EI client married in October of 1998 plays bassoon in Baltimore Symphony Orchestra. He has performed with the National, Baltimore, Delaware, and Richmond Orchestras under the baton of such conductors as Leonard Slatkin and Mstislav Rostropovich. Inna Blackwelder of Moscow, a principal in a music school, married to EI client Bill Blackwelder, accompanied Barry's bassoon performance at EI Open House.

Aniya Shambat, Sofia Goldman and Inna Blackwelder continued the concert at the same high professional level before other participants of the Open House musical presentation received the sheets with the words of English and Russian versions of the most famous songs like Moscow Nights, America the Beautiful or Those were the days

The words of the song America the Beautiful had special meaning for every couple. When I joined everybody singing --

America! America! God shed his grace on thee,
And crown thy good with brotherhood
From sea to shining sea.

Not a whisper's heard not a rustling sound,
Non the woodlands sleep till the dawn
Words cannot be found for this charm profound
Moscow nights from the eve till morn
| | |
| --- | --- |
| | |
-- I caught a sight of the Amirs family. Syrus, computer engineer, originally from Iran, joined EI in august of 1994 when he was 35 years old. From the very beginning he was very enthusiastic about EI program and even offered to develop the first customized database for EI. Like other clients he started corresponding, went to Moscow, got engaged to Natasha, 24, teacher in elementary school. We keep his testimonial written in the engaged couples album for 1995 "I am a very lucky man. I have found my dream girl". Natasha was totally in love with him and they seemed to be a great match in all respects. They got married in June of 1995. At the same time we at EI were constructing our first EI web page on the Internet. When I saw Syrus and Natasha's wedding pictures beaming with joy and happiness I couldn't help but asking for their permission to use one of them for the front page of our site. Now four years later I took a different picture of the Amirs family. It can be titled
Four Generations at the Family Reunion in America.
Syrus Amir, a happy farther of his first born daughter Stephanie, his wife Natasha, Natasha's mother and Natasha's grand mother at EI Open House '99.. When Syrus and Natasha received the invitation to come to the Open House Natasha called me and with some hesitancy in her voice asked, if she could bring guests from Russia to the party...
We have been working on sophisticated graphics for the front page of our web site for quite some time now and we are getting ready to replace the old picture of Syrus and Natasha Amir. I believe that this picture brought good luck to us and I was very glad to have an opportunity to tell the happy continuation (not ending yet) of the story behind their picture on our front page before we replace it.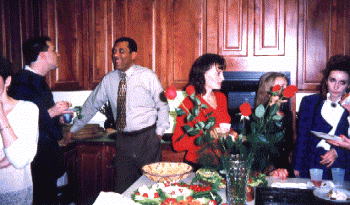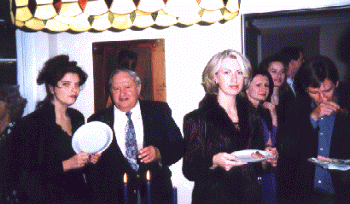 The second half of the party at the Open House is always the same: married men talk to married men, single men talk to single women and all women talk between themselves at all times. I guess, everybody misses the opportunity like this to talk and I did not get any response when I suggested to do some more singing or dancing after the meal.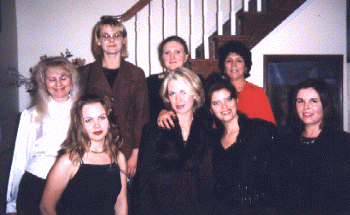 Single men at the Open House had a different problem: among so many beautiful faces of Russian women it was hard to distinguish who was married and who was not. So I asked some of the single women to have their group picture taken. Those of you, ladies, who do not see yourself in this photo -- sorry, you were too busy talking with men that I did not want to interrupt you.
All single women liked the party and were invited to come again for the Saturday Club socials.
Also, we decided to postpone our 200th couple engagement party until our February Saturday Club on Feb. 27th. Greg Mitchell and Anna Eremenko became EI 200th couple. They couldn't make it to the Open House because Greg's mother had to go to the hospital. They will be coming to the Saturday Club and we are preparing somewhat of a surprise party for them. All EI members are welcome to come and join the celebration. There will be two more reasons to celebrate but I do not want to spoil the surprise now.