Encounters International Saturday Club (September 26, 1998 )

"When is your next Open House?" "How can I meet other couples in the area?" "When is the best time for us to come? I would like you to meet my fiancee." "My girl-friend from Moscow came to visit us . May we bring her over so that she can meet somebody from your service?"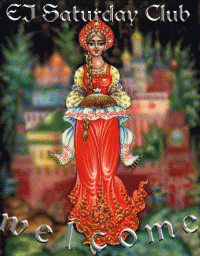 Well, we've got the answer to these and many other similar questions which reflect people's natural desire to socialize. This desire becomes a need for those who moved far away from their friends and home environment. More than anybody else I know how often the fine line between the success and a failure of cross-cultural relationships at their early stages depends on whether this need is satisfied or not.
It has been long since Encounters International outgrew the narrowly defined role of a regular matchmaking service. It has fully developed into a matchmaking social club. Time came to recognize and accommodate it.
So be it. Last Saturday of every month from 12 noon to 5 PM Encounters International opens its doors for couples and singles, clients and "ready-to-join" prospective clients to meet, socialize and enjoy the atmosphere of support, to show off their fiancees, new wives or babies. That will be the day for me to schedule video interviews for single Russian women applying to EI from different states of the USA. I am sure that women - EI members who live in our area will not need a special invitation to attend EI Saturday Club and maximize their chances to meet the significant ones right there. Russian tea from a samovar and snacks will be available for "breaking the ice". Inna and I will break the habit of staying glued to the computer screens in our offices and will have fun with you too.
This month's (September 26) EI Saturday Club gathering will have its theme - children. The Rosins family who were selected to represent the diversity of EI couples at EI 5th Anniversary Celebration got the second baby boy and are going to bring him to his "Alma muter". All couples with children are welcome to join our celebration . We prepared Russian children's books for them to take home.
Although children will be the highlight of this month's get together, singles romance life never stops inside the walls of Encounters International. One of our couples has already asked for permission to bring the beautiful girl friend of theirs along with them to the EI Saturday Club. She is from Moscow but was too shy to come to EI office there. So this is an opportunity for her as well.
Saturday, Sep. 26 is going to be the official opening of our EI Saturday Club. Those "ready-to-join" prospective clients who asked me about the best time to come -- this is the best time. Follow the directions. The doors will stay open from 12 noon to 5 PM. There are plenty of places in Bethesda and the area if you decide to continue socializing beyond this time. For your convenience Bethesda on line guide. is included here. I am planning to keep you posted on the future activities of EI Saturday Club through the Encounters International Clients Exchange message board
Encounters International is open Monday to Friday from 12 noon to 7 PM.
Encounters International is open for Saturday Club activities last Saturday of each month from 12 noon to 5 PM
Encounters International is closed all other Saturdays and Sundays.
2004 |2003 | 2002 | 2001 | 2000 | 1999 | 1998 | 1997