Life is a Beach Party
Our Mid-Summer Social at the Beach!
July, 28, 2018 at 12 noon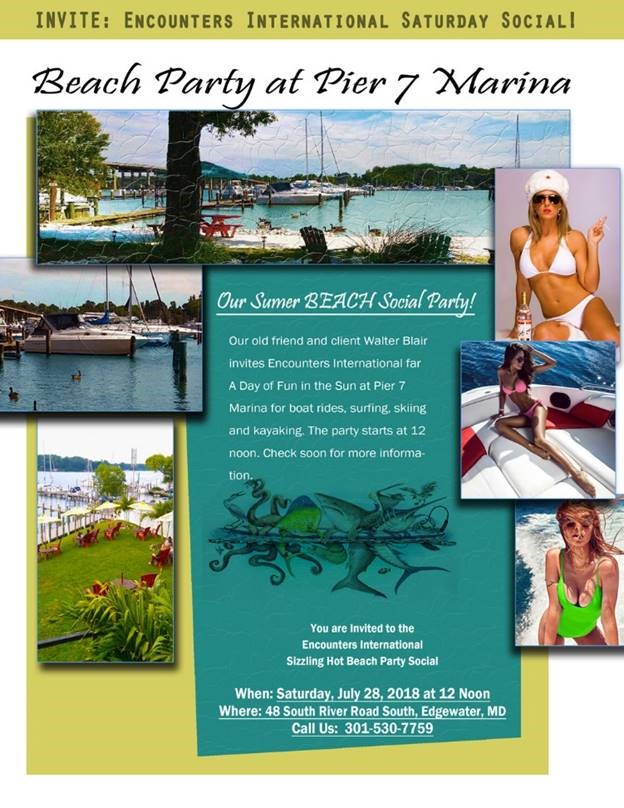 If there is one summer time party destination that is above all others, it is definitely the beach! Nothing beats a day spent in the sand at the ocean and in the exciting company of likeminded people.
That is what we are planning for you. Our dear friend and client Walter Blair has invited the Encounters International community to be his guests at the all day private beach party at Pier 7 Marina in Edgewater, MD. Here are some pictures taken during the past EI Beach Parties.
Our July 28 party will start at 12 noon and will continue until 6 PM. Pier 7 is a gated beach area, but if you identify yourself as a guest of Walter Blair, your car will be let in.
Thing to remember:
Bring a beach chair or the right blanket.
Pack a perfect picnic basket and bring it with you.
As you know, nothing goes better than 'your toes in the sand and an ice cold beer in your hand' Bring your beer or your choice of a beverage.
Bring your favorite beach sports and fun items -- volleyball, badminton, inflatable floating devices.
The party activities include:
Short cruises on Walter's boat along the coastal line.
Jet ski rides (rental)
Kayaking (rental)
Paddle boating
Serf boards and swimming
Sports activities and yoga classes
All members, EI couples and Get to Know Us members are welcome!
Looking forward to seeing you for a day of fun in the sun!
.
.
.