Let's Dance Party
Saturday, September 24, 2011 from 6:30 to 11:30 PM
on Blagden Ave@ EI Headquarters in Washington, DC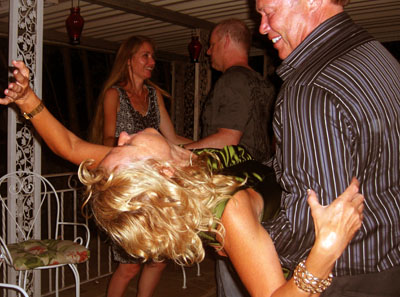 Now, that hurricanes, earthquakes and other natural and perceived disasters that caused cancellation of EI August party, are behind us we are back to our regular schedule.
Everybody was so excited about Let's Dance! party that had to be cancelled because of the hurricane, that we can't but reschedule it. We just expect more people this time. So-o-o..
Our Saturday, September 24 party is for everybody who likes to dance and who likes to watch and who likes both. During dance breaks we will have our Talent Show entertainment program. As many of you know, our community consists of extraordinary people, who are or used to be famous performers, singers and dancers, like Tatiana Khelenska, a singer in the National Ukrainian Capella and Rollin Weihman, a piano director in Riverside Theater, to name a few. They are happy to perform for us and we are always happy to enjoy their performance.
Let's dance Party will be a great party to find your match because nothing can help open your soul more than a romantic candlelight dance in the beauty of a velvet summer evening.
The party is free. All EI members and Get to Know Us members are invited. Please bring a bottle of wine and some snack or dessert to share. We are going to have plenty of romantic dance music, but if you have something special that you want to share, please bring it along.
I am looking forward to having more matched couples at the end of our private Let's Dance! Party
Midsummer Night Dream Party (July)
Slide show from Saturday, July 30, 2011 Wine and Cheese social
It started as a simple "Wine and Cheese" social and it progressively developed into a large scale Midsummer Night Dream party. We toasted Jay and Svetlana's dreams come true -- the happy couple got married just a day before the social. We applauded Elza and Rollin's dream piano performance. They played and sang together like a professional opera duet. And of course, the dream beauty of many couples that met at the party speaks for itself. Just look at the pictures -- no comments are necessary.