8300 Block Tyco Rd, Tysons Corner, VA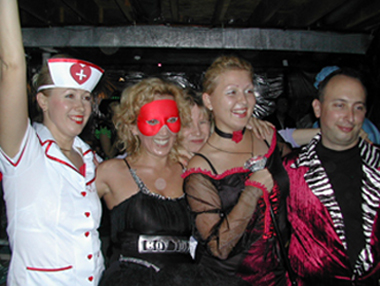 Encounters International Saturday Socials have been held last Saturday of every month for more than a decade now. October is known for its Halloween theme. This year our traditional Saturday Social coincides with the Halloween Day itself and all the fun associated with it. So, we decided to add this fun to our social and reserved the tables in eCitie, one of the favorite dance places in the Greater Washington area.
In addition to to having the honor of hosting EI social eCitie is having a "Monster Ball" and the Most Original Costume Contest with the number of prizes offered to the winners. I do hope that our Russian ladies and gentlemen for that matter will be among the winners.
No cover charge to join the party before 9 pm.
EI has reserved the tables to the right of the dance floor, the same area where we have already had a number of parties previously.
Cash bar is available.
DJ and dancing will start at 9 pm and will continue until 2 am.
Traditionally Halloween Party is one of the favorite parties of the year and some EI ladies travel from as far as Moscow and Kiev to meet everybody face to face. This time Svetlana V. will fly from Moscow to Washington, DC to join the fun at the social. Please do not miss the party and a chance of meeting her and other members, who travel to the party from far away.
I am looking forward to enjoying the party together with you.
.