Saturday, August 29, 2009 from 4 to 9 pm
Woodley Gardens Swimming Center at
850 Nelson Street, Rockville, MD
301-340-1012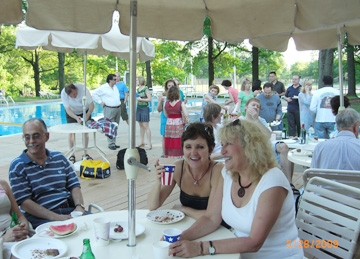 y
Those of you who have never had a chance to join us for one of the previous Swimming Pool parties this summer -- rejoice! We left the best for the last! You are invited to EI last Swimming Pool and BBQ Party this year at Woodley Gardens Shimming Center in Rockville, MD.
As usual, the Swimming Pool management will provide us with the grills and a nice space on the deck to enjoy the food while some of you are going to meet your future wife or husband,may be, and others will proudly introduce new members of their growing families.
The party is free, although you will have to pay a small pool entrance fee of $5.00 to the Pool Management. Also, food is on all of us, as you already know, so please bring your favorite wine, meet or fish for grill and any food at all that you would like to share in the good company of Russian ladies and Russian culture and marriage oriented American gentlemen.. We'll have a boom box and you are welcome to bring your CDs. And of course, do not forget your swimming suits. After all, Each swimming pool party starts with swimming and usually ends with dancing on the deck. I am looking forward to enjoying this party with all of you.
Many of you asked me if we are going to have our annual Beach Party. The answer is no, not this year, but we will try to resume our tradition again next summer.
I have some sad news to bring to you.
Raymond Levinson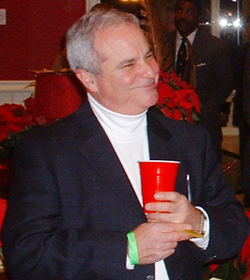 Our dear friend and a long time client of Encounters International Ray Levinson passed away. He was found deceased last Sunday in his home in Baltimore.
I will always remember Ray as one of the kindest persons I've ever met. His sense of humor was superb. He had been very active in the EI community and very helpful in many projects. The picture that you see was taken at our Christmas Party 2007.
Ray had visited Russia and Ukraine many times and he had many friends there. His knowledge and keen interest in the Russian and the Ukrainian cultures and politics were remarkable. We all will miss Ray and -- as it is customary in Russia -- I want to say: "Pust zemlya emu budet puhom" or "May the Earth be Dawn to him."