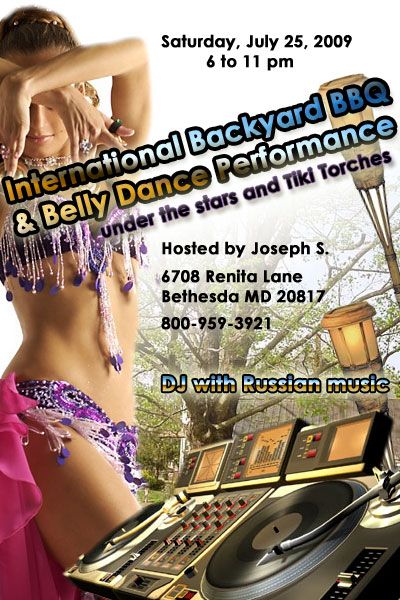 The sky is the limit for imagination of our clients when it comes to their hosting of EI parties. Just when I think that I've seen it all, somebody presents me with a surprise.
This time it was Joseph S. who created a summer excitement for all of us. He invites everybody to a Russian-American-Middle-Eastern -- truly International Party -- in the most beautiful and romantic setting of his home in Bethesda! You will be enchanted by Belly Dancers who will perform under the flickering lights of Tiki Torches with a Russian DJ Sasha and a Russian Barbecue chef Evan working diligently to make the party a truly special event.
I have nothing to add except saying: "DO NOT MISS IT!!!"
I am excited to see you all at this surprise party! All members and Get to Know Us members are invited.