Halloween Party '08 in Columbia, MD
Saturday, October 25, 2008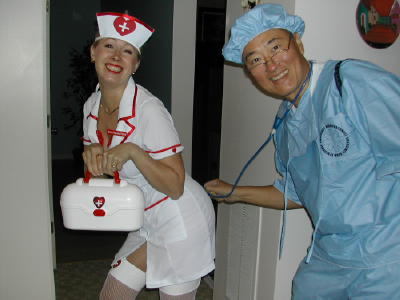 Congratulations to David and Marina Ling, Winners of Best Costume Contest !!!
I do not know if David was a doctor in his previous life but he and his sexy wife Marina dressed as his assisting nurse were so natural in their Halloween costumes, they enjoyed their roles so much that it was difficult to believe that they were not born to be in medical profession. I guess from now on I will always want to call him Doc. when I see David at our future parties. Good job, guys!
While there were many deserving candidates for the winners of the Best Couple Costume Contest, Dave and Marina won it by default. They were unanimously pronounced the best couple of EI Halloween '08. Their prize is a free trip to Dominican Republic. Congratulations David and Marina!!! Pozdravlyayu!!!
Halloween Party Slide Show
And the winner is .....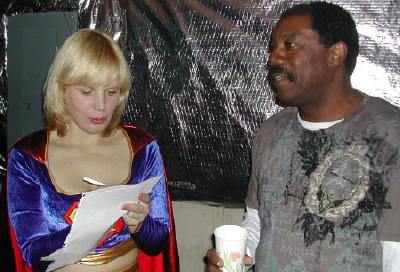 Olga Boster, the winner of the Best Halloween Costume Contest '07 is interviewing Larry, one of her prospective companions on a Dominica Republic vacation trip
Mark and Larry had been chosen during the Halloween Party as two candidates for Olga's heart and vacation time with her. As you know, Olga was a winner of a free trip to Dominican Republic at last year Halloween party. A year passed but Olga hasn't gone on a trip because she did not find anybody to share it with. Naturally, we decided to help Olga and arranged a little contest between two very deserving gentlemen for her to choose from.
Read on, but don't laugh. The first question of the contest was: You are on the beach. All of a sudden a beautiful Russian nude lady approaches you. What will you do? While you think what would be your answer, I'll tell you that Olga confessed that both gentlemen gave witty and interesting answers, but Larry's response made her laugh. His response was: "I'll tell her that she has beautiful eyes".
Moreover, Olga felt that she was connecting with Larry on the interactive level since she could easily go on with the scenario by responding back to Larry in kind. So, the winner is Larry G! Congratulations Larry! You passed the first dating hurdle. The rest will be easy. And the outcome, of course, will be up to the Cupid! And sure we want to see your pictures on the Dominican Republic beach!
I would like to thank Luis for remaining as a great host as he has always been. Also, Marina Davis, who hosted our Wine Tasting Party last month became Encounters International new Social Director. She has a talent to engage people into playing fun games at the party as nobody else and we are thankful to her for that. Each social with her participation is increasingly interactive and it becomes easier to find the right person for each of you.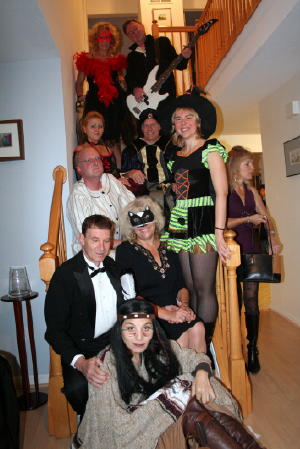 Last Saturday in November coincides with Thanksgiving Day weekend. Traditionally we skip our Thanksgiving Saturday Club social since most Americans and Russians in America take advantage of the long weekend and travel to spend time with their families and close ones.
Mark your calendar: our next social is Saturday, December 27, 2008.
Get ready for
Russian Christmas Season Party!
As usual, it is going to be one of the biggest parties of the year.
Location will be announced soon.
Make your plans to travel to Washington, DC early!