Annual Memorial Weekend Swimming Pool Party
May 31, 2008 from 2 pm
in Woodley Gardens Swimming Center in Rockville, MD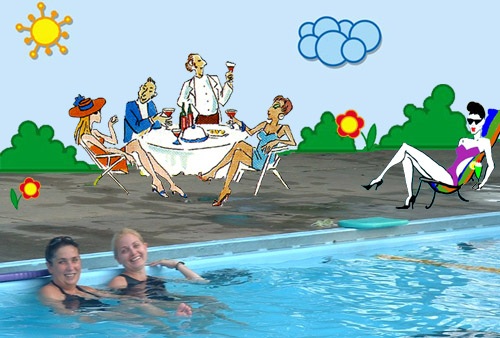 All Encounters International members and Get to Know Us members are invited to our Annual Swimming Pool and Barbecue Party hosted by EI couple John and Tatiana Bell at Woodley Gardens Swimming Center.
What a great way to start the Summer season! Those who are new to our community may have an idea of what to expect at the party if they view the last year party' s slide show. Since that last party in May of 2007 John and Tatiana (the first photo on the slide show) have had a major event in their life.. Their happy family became larger as their baby-daughter was born last Christmas. John and Tatiana, please accept our congratulations!!!
This time we are going to start the party relatively early, at 2 pm, so that we would take the full advantage of the swimming and sun before it becomes late and cold. Also, it will give us a chance to move the party later in the evening elsewhere in the near by restaurant or a club. It should be a particularly attractive option for our singles who like to leave big parties as couples to enjoy a more private time.
We will have a grill and we'll grill anything that your heart desires from hot dogs to corn o' cobs, just don't forget to bring them with you.
As usual, EI families with children are welcome. The Swimming Center has a kid's pool and a playground.
Address: 850 Nelson Street, Rockville, MD
Telephone: 301-340-1012
I am looking forward to having great time with you at the party.
Video Encounters with EI Ladies residing in Kiev
If you are interested in live video chat with your chosen ladies from EI Kiev office we can arrange it for you. All you need to do is to coordinate the time for her to come to Kiev office and to have Skype program downloaded on your computer. We are in the process of testing the organizational logistics of these Video Encounters due to the time difference. Please let me know if you are interested in participating in this testing process. I know that one of the clients is already looking forward to watching his lady in the EI office at the time when she will be receiving flowers from him one day next week. I am sure that it will be an exciting video encounter for both of them. Just imagine, that the order may contain a bottle of champagne and you will be able to see each other making toasts!
Very soon we'll make the online scheduling program available to EI clients for coordinating pre-arranged video encounters with their chosen ladies. After launching it in Kiev we plan to make it available in the rest of the EI offices.