Private Home Russian Tea Party
hosted by Irina in Arlington, VA
Irena Weik opens the doors of her beautiful house in Arlington, VA to invite all Encounters International members to her Russian Tea Party Saturday, March 29, 2008 from 6:30 to 10 PM.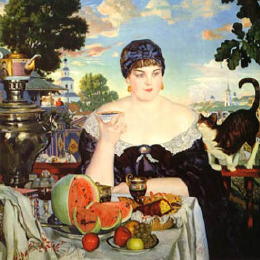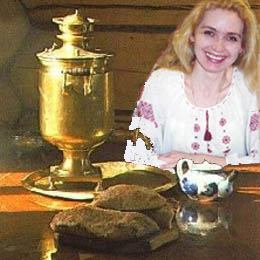 A little history of a Russian Tea Party tradition.
In 1635 a Russian Ambassador Vasiliy Starkov surprised the tsar with an unusual foreign gift -- tea leaves. I guess the tsar liked the gift because this year is considered to be the time when the tea won the recognition among Russians.
Initially tea was very expensive, because it took more than a year to caravan one shipment of 'chai' from China to Moscow. No wonder, that it was served only to the aristocrats and the nobles who started the tradition of Russian Tea Parties. Offering a cup of tea became a symbol of elegance, luxury and well being. A special table setting including samovar, tea pots and tea cups with sources became a part of the tradition. Tea was served with various sweets, fruit and cream.
Nowadays, every Russian offers a guest some tea before offering anything else. Getting together for a tea party has become not only a part of the lifestyle in Russia, but the main symbol of friendship and hospitality.
You are welcome to share this tradition during the EI Tea Party hosted by Irina. Enjoy Russian hospitality, make friends or find a soul-mate. This social is going to be the first party this year that is hosted by a single Russian lady. As you know, that does not happen very often, but when it happens, the party has a special aura of femininity and grace. Typically, more Russian ladies tend to attend such parties. I hope that you will not miss it!
Party details:
Address: 2032 North Taylor Street, Arlington, VA 22207
Telephone: 703-525-5747
What to wear : semi-formal / semi-casual attire
What to bring: snacks, sweets, fruit, cheese and wine.
Children are invited!
Get to Know Us members are welcome!