| | |
| --- | --- |
| | What's New |

What's New Archive

*
*
*
*
*
*
*
*
*
*
*
*
*
*
*
*
*
*
*
*
*
*
Second Annual Private Beach Party '08 in Pasadena, MD
.
. The Beach Party is over. As usual, it was beyond expectations. Here is how some of EI clients describe their experience at the party:
" What a fun party! A GREAT way to spend a hot Summer day (and night!) Delicious, fresh, steamed crabs , a Maryland delicacy!; swimming in the cool water of the Magothy River; GREAT food; cold beer; vast variety of wines and liquors, spring water and soda, Dave's homemade salsa with chips was fantastichno!; live rock and roll (great songs, performed well!); frisbee, volleyball, and beautiful Russian & Ukrainian women in swimsuits! DA! Spasibo, Dave and Lidia and Luis, for a wonderful party."
In addition to our collective appreciation of the party and its organizers Dave, Lidia and Luis I would like to say thank you to our clients for hosting our out-of-state Russian ladies.
Parties of this magnitude bring together people from all different states. For some Russian ladies it wouldn't be possible to attend the party if not for EI clients who volunteer to host a lady that includes meeting her at the airport, accommodating her overnight, bringing her to the party and seeing her off.
My "bolshoye spasibo" or big time thank you to Ray L. for hosting Tatiana Belous who came all the way from Kiev, to Luis N. for hosting Elena H. from Atlanta, GA, Joseph S. for hosting Nadezhda Ivshina from NYC, Neal Z. for hosting Nonna Ostrovova from NYC. All the ladies and the hosts alike had a great time before, during and after the party. I hope that we, at EI family of clients in Greater Washington area, will continue the tradition of "American hospitality to Russian Ladies"- club members from out of state. If you haven't been involved yet, but interested, please let me know.
Enjoy the slide show! Everybody looked especially beautiful and relaxed on the beach. Therefore it was a pleasure to take pictures for our general slide shows as well as for updating ladies' profiles. No wonder, that we have had more than one photographer at the party. Please follow the links below to see more photos.
Message from the Hosts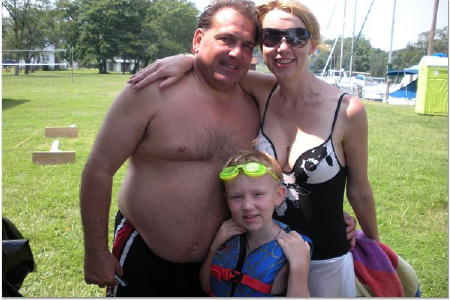 Thanks to the out of town folks who spent alot of money, time and energy to come to our sleepy town of Pasadena! We realize that during these difficult economic times that it means even more!

Thanks to the band that played very well....I know that some people felt that the music was a little loud but they really had to fight the strong wind conditions! I hope that everyone enjoyed the show!
The crabs were good and we really cannot believe that 2 bushels went so quickly! And guess what....I even had the chance to eat a few this year!
I think there was plenty to eat and drink this year and if you went home hungry .....you must have been at the wrong location!?

We apologize that we did not have any boat rides but unfortunately we opted on the side of safety. The weather conditions were really challenging and not conducive for docking. As everyone is aware I am very serious about the safety aspect of things!

With all good things sometimes there are bad.....we had an unfortunate situation where a couple of things were stolen. To make a long story short the person who commited the crimes was caught. I pressed charges and he will go to jail! Some of the items were recovered! I apologize for all of this aggravation but these things to happen in life!
To all of you who brought birthday gifts I just wanted to let you know that it was sincerely appreciated but it was not necessary! Thank you!
And finally I do not know what life will bring to me in the future! My life has changed drastically! I have found a very nice lady from Kiev!
I hope you had a chance to speak with Lidia and welcome her to America. She has only been here for a couple of months. She has a beautiful son named Kostya. I have never realized what joy a child can bring into your life. I have never been married and was never in the position to have children! Wow!
In closing, Lidia and I will be getting married in October! We are looking to a long and happy relationship together! I am very happy, appreciative and fortunate to meet such a honest, loving and warm person! Hey guys.....this internet stuff can really work!
Take care everyone and if God is willing, work is plentiful and the majority wants it.....maybe there can be a third annual Beach Party?
Lidia & Dave