Saturday Social Exotic Dinner in Marrakech Restaurant
February 23, 2008 at 9 PM
617 New York Ave N. W.
Washington, D.C., 20001
Tel: (202)393-9393
.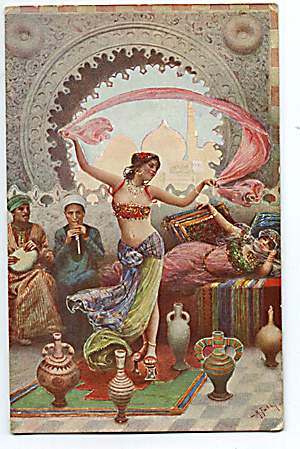 You are invited to join us for our special social at the exotic place called Marrakech restaurant in Washington, DC.
Nabil, who hosted a Belly Dance Party in his home a couple of years ago is going to be our designated host for this party. I know that until this day most of the ladies remember the evening of fun -- leaning and practicing belly dancing at Nabil's. This time we'll be enjoying the same in even more authentic atmosphere of a Moroccan restaurant.
So, we all get together for a dinner party with a belly dance performance. Encounters International has made the reservation for you for the popular 9 o'clock sitting. My advice: do not eat this day and come to the party hungry. A delicious 7 course diner will be in store for you. Please come a little earlier so that you do not miss the belly dance performance.
It will be a delightful evening after the hassle and bustle of St. Valentine's week end. Relax and meet your Russian Valentine in the most unlikely place - a romantic, captivating and mysterious atmosphere of Marrakech.
Rules and Regulations:
No children under 18 years old.
$38 per person including tips and bally dance performance. Cash only!
It does NOT include drinks.
Directions:
Marrakech Restaurant is just 3 blocks from Gallery Place/Chinatown Metro Station
Get off 7th Street
Walk Right on 7th Street to New York Avenue and take Right
Restaurant is on left side just before 6th Street

Driving?

From Virginia

From 66 East
66 will turn into Constitution Avenue
Make a Left Turn to 6th Street, NW
Left on New York Avenue
Second Building on Right Side


From I-395 North
Exit 1 North which is the 14th Street Exit
Make a Right onto Constitution Avenue
Left on 6th Street, NW
Left on New York Avenue
Second Building on Right Side

From Maryland

From Baltimore-Washington Parkway
Exit 50 West which is New York Avenue
Stay on New York Avenue
Restaurant located on right side just past 6th Street

From Silver Spring
Take Georgia Avenue. (Will turn into 7th Street)
Left on New York Avenue
Restaurant on Left Side

From 16th Street
Left on L Street
L Street will turn into New York Avenue
Restaurant on Left Side
P. S. The makeover party that we initially planned for this month social is going to be postpone until March social, Saturday, March 29.