| | |
| --- | --- |
| | What's New |

What's New Archive

*
*
*
*
*
*
*
*
*
*
*
*
*
*
*
*
*
*
*
*
*
*
Private Beach in Pasadena, Maryland
August 25, 2007
A MESSAGE FROM THE HOST:
I wanted to take this opportunity to thank everyone who attended my party! I sincerely hope that all of you had a good time. .....and if you didn't , well you should become a Zen monk and hide in the mountains! I wanted to take this time to speak from my heart! I will mention many things and they have no particular order because all of these items are important to me!
a. I wanted to give a special thanks for all of the people who came from out of town. The extra time and expense that you incurred to come to a little party on the beach says a lot about who you are and what you are made of! Thank you from the bottom of my heart! I hope that you met some nice people and that it was worth your time and effort! I wanted to give special thanks to my brother Wally who drove 8 hrs. from Buffalo to be with me......he worked his ass off at the grille and for the general prep of the party! I really appreciate all of his efforts! Additionally I want to thank Dave Lombardo who I never met before.....he is a good person who was willing to pitch in! I also wanted to thank my close friend Billy who flew in from the Bahamas to spend time with me....it meant a lot! Other notable mentions.....my bartender Betty! She worked almost 16 hours on Saturday! I believe that she did a great job....I hope everyone appreciated her hard work! All of us had time to play....she had to work...! OK, I must also thank Joe T for all of the pictures he took.
b. Yes,all of you were well behaved .....a few people might have had too much to drink but everyone was happy and made it home safe! This was very important to me!
c. I may do this party again next year .....I will think about it over the next few months!? As you may or may not know I did 98% of all of this myself,.....no help! It takes a lot of time, planning, effort, energy, money and so many other things to make this happen! You have no idea?! I gave you everything I have......I hope that you appreciated it???? I would like your feedback; the Good, the Bad and the Ugly!
d. I really made a concentrated effort to say hello to everyone....if I did not meet you please forgive me! In addition to all of my hosting duties I tried to give as many people as I could a jet ski ride and when I finished I let my friend Paul take over the controls! We honestly tried to accommodate everyone! I hope we succeeded!
e. The weather Gods were pretty good to us! The location was good, the water was warm and the temperature was almost 100 degrees! Yes, the band could not play the final set but I think they sounded great and put on a good show for all! I was looking forward to the limbo competition!
f. I hope everyone had enough to eat and drink......I believe no one went home hungry or without any libations! We went through a lot of alcohol! And I hope you noticed that everything was top shelf! No cheap stuff at this party! I tried to have a wide array of things to drink.....I heard a few people complaining that we did not have a few things but.......oh well!
g. I wanted to let everyone know that the crabs you were eating were caught right out in front of the pavilion! I cannot believe that almost 2 bushels went so quickly! I hope they tasted good!
h. Since I am an honest person I always speak my mind......there were a few people who came who should not have been there! We have a special English word for this....."Free loaders"! I did not appreciate it!
i. For the people who stayed at my house.....sorry about the tight conditions but I think everyone was comfortable!?
j. I wanted to answer the big question that everyone one asked me at least 20 thousand times.......why did I throw this party? Well, it was for you! It was to have a good time! It was a time to possibly meet someone! We do not know what the future holds, so we had a party and I think that on the overall scheme of things it was a major success! I know that I had fun even though I was busy! And I know that all of you had fun.....it was obvious from the amount of smiles, good conversation and overall mood! To those of you who missed this party......I feel bad! You missed something very special! You missed 200 people sharing a good time!
k .Another special thanks to the people who brought wine, candy and small gifts to say thanks.....those people have a special spot in my heart!
l. Yes, people who helped me clean up....I appreciate it too!
m. Hmmmm, did everyone like the salsa?
OK, I am getting pretty long winded here......this was a privilege for me to do this for you! It was rewarding in many ways! For those of you who do not know me.....guess what! I am a giving and caring person! The person you saw out there is who I am! Yes, life is good!
"Until the next time we say good bye......I'll be thinking of you!"
Your host, Party director, cook, jet ski captain, maid, slave, love doctor, etc.
Dave Olszowy
The day after...
Every person carried a set of his or her own special memories from the Beach Party. Most of the men were glad to meet face to face so many ladies from EI database and . I was happy to learn from these men that all the women looked better in person than on the photographs.
A lady from New Jersey said that it took her more than four hours to drive to Maryland for the party, but the wonderful sail boat ride alone was well worth it.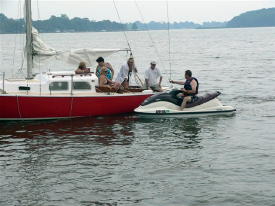 Our sail boat Captain, another generous EI client who offered to bring his boat to the party was the only man among eight overly excited Russian women on his boat. No wonder that he overlooked the effect of the tide and the bottom of his boat got stuck on the way back before reaching the peer. The jet ski driver came to the rescue of the Russian Motley Crew, but he was unable to manage the balance and the jet ski capsized.
I tend to believe those who were watching that from the peer. They say it was a hilarious spectacle. But since I was one of the Russian women in the water as a result of this little accident -- together with my cell phone in my pocket -- I was not so quick to join the fun of it :)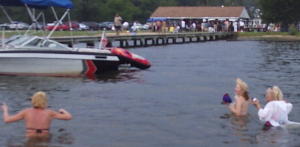 But the best and unexpected part of this party experience came a day or so after... when I started receiving the following messages: " Hello Natasha, has anyone offered up their hospitality for the September Saturday Social yet? If not what do you think of having the social at my house. Paul " or "I even considered offering my house for an E.I. social, with keg of beer and food, and croquet matches....Of course, it's only about 15 or 20 minutes walk to a private fishing cove in the Liberty Reservoir....or less time to walk to the end of the street to go trout fishing... Ray. "
Nothing could make me happier than receiving messages like that. These messages show that. the spirit of giving has touched many at the party and they opened up the best of their own souls. To me it was the most beautiful and unexpected result of that social. Everybody knows that it is always easier to be a guest at a party than to host one. That applies to just about any party, but not a party for your close friends and family. Because cooking for your friends is very rewarding. That is why I view the increasing number of offers to host future EI parties as a sign of ever growing sense of belonging to a circle of close friends. I couldn't hope for better results when I started Encounters International almost 14 years ago..
I personally want to thank Dave and the rest of EI members for being who they are, a wonderful and giving group of people no other agency could boast about or dream of to have.
Natasha Spivack