Caribbean Dream Party in Columbia, MD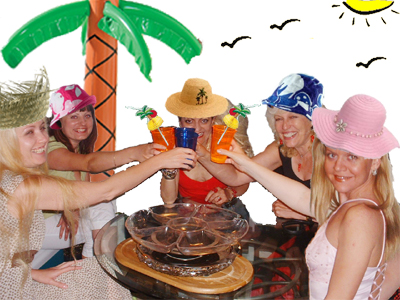 You are invited to Caribbean Dream Party
Saturday, June 30, 2007 at 6:30 PM
Hosted by Luis Nevis in his home
9583 Guilford Rd, Columbia, MD 21046.
Tel: 410 905 7725
Although we do not need the occasion for throwing a Caribbean Dream Party we actually do have a perfect occasion this time. Luis, who is known in our community as an expert on exotic parties like Salsa Party, Margarita Party and Vodka Party this time is inviting all of us for a Caribbean Dream Party. Not only it is his "Hot house special" , but also Luis has recently returned from Dominican Republic where he pioneered the new territory for EI clients -- meeting a Russian woman in the Caribbean.
Most of you know that Russian and Ukrainian women do not need visas to go and meet American men in the Dominican Republic. That presents an opportunity to those of you who are interested in meeting Russian women but who want to avoid traveling to Russia for different reasons. Some of the reasons are described on our new Travel page in it's Caribbean section. By the way, Luis has supplied all the beautiful photographs for our Caribbean Travel page.
Luis and Anna met for the first time in the Dominican Republic. Luis was so impressed with her beauty multiplied by the beauty of the place where he stayed that he can't wait to experience everything all over again in a couple of weeks. Feel free to ask him why.
So, join us for the Caribbean Dream party!
Dress in tropical shirts!
Bring tropical food and drinks!
Enjoy!!!
Address: 9583 Guilford Rd, Columbia, MD 21046. Tel: 410 905 7725

Directions: I-95 Exit 38A, turn off onto Ramp0.5 mi
MD-32 East towards Fort Meade
Merge onto SR-32 (South/East) 0.9 mi
Turn off onto Ramp 0.7 mi
US-1 North & South / Laurel / Elkridge
Continue (North) on US-1 [Washington Blvd] 0.4 mi
Bear LEFT (North) onto SR-732 [Guilford Rd] 1.5 mi
Arrive 9583 Guilford Rd, Columbia, MD 2104