and merges with To4ka, Russian Dance Party later in the evening
This month's social will bring quite a new experience to Encounters International members. We have arranged to gather at To4ka (pronounced "tochka" - a Russian word for a "spot" ) - the Russian dance night club located in Bethesda.
We will meet at Thyme Out Cafe at 7:00 PM, a few hours before the Russian Dance Party begins. That will give us a chance to relax and socialize as usual, to meet new EI members and taste Russian pelmeni and bliny that will be on the menu of this restaurant. Russian beer, Ukrainian vodka and Georgian wine will be offered in addition to the full selection of regular drinks in the cash bar.
At 10:00 PM EI Saturday Club social will merge with To4ka's crowd. You will be able to enjoy Russian music, dancing, meeting other Russians or just watching our singles Russian community of Washington DC, Maryland and Virginia area.
This party is free for EI members, although if you decide to join us after 9:30 PM, you will have to pay $10.00 entrance fee like everybody else attending To4ka's dance party only.
I hope that you will welcome and enjoy this new experience. Our Christmas '04 party in New York Palace Russian restaurant in Baltimore was EI's first attempt to introduce you to the events of Russian cultural life. I know that it was a very enjoyable party for both Russian ladies and American men.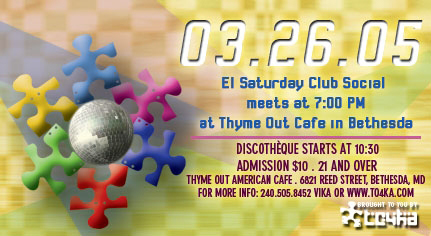 Thyme Out American Cafe is located at 6821 Reed Street, Bethesda, MD, next to the Bethesda Row Independent Movie Theater, across from Barnes & Noble. For more information and directions please call Vika (240) 505 8452.
All EI couples, single members and Get to Know Us members are welcome.
I hope to see all of you there!