Memorial Weekend Barbecue Party Slide Show
This past Memorial weekend get together had a true "party time" spirit: plenty of space, plenty of food, plenty of drinks, plenty of music and plenty of laughter. Our host Issa Ziadeh was enthusiastically accepted to our family of clients. Now I am receiving all kinds of inquiries from our young single ladies regarding Issa's status. He is not engaged yet after the party, but hurry up... as they say, he will not last long.
June 26, 2004

Reception in American Film Institute and Special Screening
of Postmark Paradise movie followed by a Post-screening Reception
Prescreening Wine and Cheese Reception at 5:30 PM in the main Lobby
Film Screening at 6:00 PM in Theater II (PG-13 rating)
Film Discussion with the Producer following the screening.
Post-screening reception at 7:45 PM in the reception area of the Theater
Wine and Desert social at 9:00 PM in the next door Eggspectation bar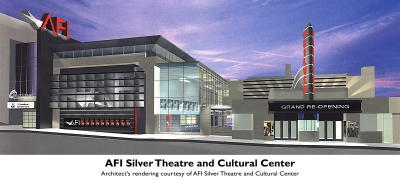 AFI Silver Theater and Cultural Center
8633 Colesville Road, Silver Spring, MD 20910
(202) 298-1100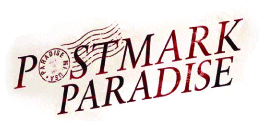 Back in 1999, I was contacted by representatives from Vanguard Productions. The company was working on a film titled, "Postmark Paradise". The production company wanted my assistance in the area of Russian woman meeting American men-international matchmaking.
Of course, I needed to better understand the movie plot and the intended context of any consulting expertise I provided. Satisfied, I agreed to assist Vanguard Productions with the feature motion picture, "Postmark Paradise".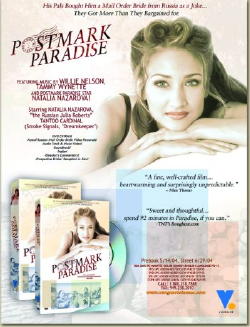 Briefly, the story of the film begins with a TV newscaster explaining how gorgeous and eligible Russian ladies are looking for an opportunity to come to America and marry any willing American man. Then the scene changes to a bar called, "The Dirty Shame," located in tiny Paradise, Michigan. A group of local men are in the bar 'feeling good' and decide to check into the so-called mail order bride phenomena.
The film tells a unique version of the American dream in small town America. Following several twists and turns, the story ends unexpectedly. I found this the most pleasant and satisfying part. Viktoria (Natalia Nazarova) performs several of the songs in both Russian and English on the film' soundtrack.
Interestingly that Merle Bertrand, Film Critic from Film Threat Weekly wrote: "... a fine, well crafted film... heartwarming and surprisingly unpredictable... It plays beautifully... this film rang so true. If American men knew that we'd meet someone like Viktoria (Natalia Nazarova) if we answered one of those mail order bride ads, we'd be swiping all the Russian women."

More details about "Postmark Paradise" can be found at the film's website: www.postmarkparadise.com
Production of "Postmark Paradise" was completed in late 2000. I anticipated that the initial screenings would actually take place here in the metro-DC area. Instead, the Producers opted to make the initial debuts on the film festival circuit. This proved to be a wise decision indeed. "Postmark Paradise" has received several awards; including 'Best Feature Film' at the Northampton Film Festival.
I am pleased to announce that a special screening of "Postmark Paradise", before the VHS and DVD release, has been arranged for Encounters International clients. As such, we will combine the screening with the June Saturday Club Social for June.
This is one of the few Saturday Club Socials that I must ask you to send me an RSVP. You can RSVP by telephone to 301-530-7759 or e-mail to natasha@encount.com. This event is free to Encounters International clients. The program will include a wine and snack catered reception followed by the screening of the movie. Movie producer and distributor will be present after the screening to conduct a question and answer session. Finally all the guests will be invited to a restaurant for a banquet and socializing.
I am very excited and I am looking forward to enjoy the event together with all of you!