| | |
| --- | --- |
| | What's New |

What's New Archive

*
*
*
*
*
*
*
*
*
*
*
*
*
*
*
*
*
*
*
*
*
*
...Happy Birthday, Dear John...
Happy Birthday To You!.
Attention everyone, John Juliano is turning blank years old! We know the date of his birth, but not the year. Why is that John?

John is a dear friend in the Encounters International family of clients. He joined us during our inaugural year, 1994. John met and married Zhanna in 1995. Unfortunately, their marriage ended in an amicable divorce some four years later. The dissolved marriage was probably as sad for us as for them.

Some time later, John rejoined Encounters International. First he saw Luba in EI online database. After several months of correspondence he traveled to Moscow to meet her. There was an instant connection and love soon followed. I am happy to announce the couple has now been married for two years!

John and Luba are hosting a birthday party with an invitation for the Encounters International family of clients. At the last party that they hosted two years ago, we had trouble actually ending the event! John's family owns a restaurant in McLean, Virginia. The food was as great as the fun and friendship. The children had the pool until sunset. Then the adults became brave and took over.

The Julianos are determined to make this Saturday Club Social even better. Is that possible? If it is, I know John and Luba can make it happen! I heard a rumor of live entertainment. This is one event that our clients and Get To Know Us members will not want to miss.

Please join us, as our July Saturday Club Social will be a birthday party event for our dear friend John Juliano! (John likes surprise presents. He asked me to include that part!) Here are the details.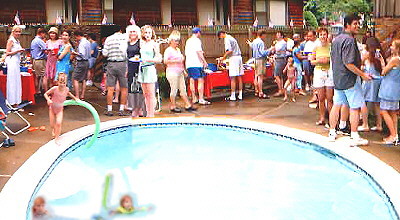 Date & Time: July 26, 2003 at 5:00 p.m.
Address: 6918 Chelsea Road, McLean, VA 22101
Telephone: 703-623-7232 (mobile)
&703-734-0611
Directions: Beltway (I-495)
Exit Route #123 Chain Bridge, McLean
Left on Ingleside Rd.
First Right on Elm St.
First Left on Chelsea Rd.