Landing On Our Feet...


Thank you to all who have been patient and understanding during this time of unanticipated transition! As most of you know, a fire in our permanent location has made a temporary relocation necessary. Here is the new contact information for Encounters International:
8527 Howell Road West
Bethesda, MD 20817
Our contact telephone numbers remain the same:

Office (301) 530-7759
Fax (301) 530-5564
If you check MapQuest or MapBlast for directions, you will see that we are about three miles from the Snow Point Drive location. I expect that this will be a four to six month stay for us here. Then we will have another time of transition back home. Hopefully, planning will make this move much smoother!

June Saturday Club Was A Big Splash!
On behalf of all Encounters International "family of clients," I would like to thank John Juliano, his fiancée, Luba, and his mom for their hospitality and the effort they put to make the Pool Party the perfect social event. The new and romantic surrounding of the party, coupled with delicious food, contributed to the process of making the matches during this event.
John Juliano and his fiancee Luba
are hosting EI Saturday Club party

Encounters International family of clients' get-together in June 2001
As usual, there were a few surprises to report! Everyone in this area certainly knows Wesley Allen. He is a regular on our 'social scene.' Invariably he "steals the show" and becomes the heart and soul of the party.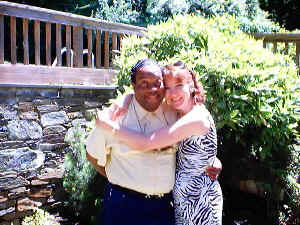 In the past year Wesley visited a beautiful lady in Moscow but did not get engaged. To him, she did not meet his expectations. You see Wesley knows with the precision of a scientist what type of woman he wants. He is unwilling to compromise on even the smallest detail! Why should Wesley compromise and and settle to for the second best? He knows that sooner or later, he will find exactly who he needs at Encounters International. Nevertheless, Wesley's friends do not believe that he will ever get married. They joke that, "his wife has not been born yet."
Of course, no story about our dear friend Wesley Allen can simply end like that! Just one day before the June Saturday Club Social, a new Russian lady entered my office to keep her appointment to join Encounters International. She brought her photos and completed her profile application. Ella decided to attend the Saturday Club Social the following day.
I introduced Ella and Wesley at the event. They seemed to hit it off immediately. I did not know how well 'it' worked for them. One week later, Ella and Wesley announced their engagement. Ella became engaged before I had a chance to update the database with her photos and profile! Congratulations to Ella and Wesley on their engagement.
This came as a real surprise to me. But, this engagement just serves to support my favorite Encounters International analogy. Being a member of Encounters International is like investing in the stock market. Short term investments of yourself is just for 'players.' The longer the term, the higher and sweeter the return. Often, you don't have to do anything to improve your situation but wait patiently. Although some days your stock value is up. Other days, your stock value is down. But you must know that you can not loose in the long term. Yet, if your stock goes up rocket high one day, it is time to act and reap the results of your strategic investment immediately to secure the gain.
Every time, I think I have seen most of the possible scenarios, I am pleasantly surprised at the way things work out for the best. Is this a great job, or what?

July 28 Saturday Club Social - More Fun In The Sun


John Juliano's party was such a success that I received a number of offers, from my clients, to host future parties. Therefore, the July 28th Saturday Club Social will be held in Annapolis, MD. Joe Devados offered his water front home to be the July meeting place for the Encounters International "family of clients."
The July Saturday Club Social will be a special party, packed with many forms of water based entertainment; like boating, jet-skiing, canoeing, swimming and seafood galore. This event promises to be one of the highlights of the year! All members and Get To Know Us members are exclusively invited. No guests please. As usual, the party is free and will begin at 4:00 p.m.
I am looking forward to this fun party and perhaps more surprises in our match-making 'stock market