Real Women, Real Videos
400 Video Tape Interviews Now Online!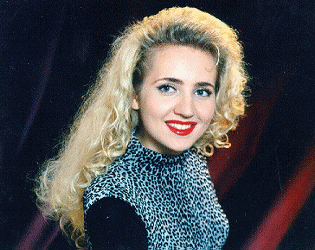 In order to watch the video please click on the picture.
If you do not have Real Player follow the link to download its free version.
This month, I am very pleased and excited to announce that the online database now contains RealVideo format video tape interviews of almost all 400 Russian ladies! For the past 8 months or so, my staff has been working extremely hard behind the scenes to make this project a reality. At times, it seemed more like a technological nightmare than a dream of improved service for my clients. With every hurdle passed, the vision became clearer. Today, Encounters International has yet another cutting edge service available only for our clients and "Get To Know Us""members.
I am sure many people remember the uproar concerning Touchstone Pictures' use of a 'body double' (instead of Julia Roberts herself) for the promotional and marketing material for the 1990 movie Pretty Woman. You probably would not select a movie based solely on the box cover. Likewise, you should not base your decision to contact and meet a potential mate based exclusively on a still photo or two.
That is precisely why Encounters International has understood and stressed the importance of video tape interviews since the beginning. Thus, we made them an integral part of the business model for your success. I am convinced that we would not have been as successful in finding the right partners for so many people without the inclusion of video tape interviews into our program.
Since we personally meet and screen each and every Russian woman presented in EI database, asking some questions on camera seemed like a natural course of events. The ladies are already in the agency offices for screening. If she is accepted into Encounters International, we can begin the video tape interview process.
However, sometimes a lady feels too tired, too casually dressed or otherwise unprepared for the camera. In this case she asks for a "rain check". Other times the tape gets ruined during international transportation from overseas. These are the main reasons why the video tape interviews of a particular lady might not be available in the database yet. You will see this marked as "Video Coming Soon". Since we do not make announcements when a video tape interviews are added, please check the database often. They are routinely included into the database upon arrival. For more information about the video tape interview content, you can check out the Encounters International Handbook of Knowledge.
Until now, local clients had to come into the office in Bethesda to view the video taped interviews of interest. Out of state clients received tapes containing the requested interviews by mail. We did keep a few AVI files in the database for a very short glimpse at an interview. But, these files were very large. Quite frankly, it was a pain to wait for the file to download before it could be viewed. Nevertheless, even with this seemingly low-tech solution Encounters International was still ahead of the competition. Now, that the online video project has been completed Encounters International once again has demonstrated its leadership role as the premiere personalized matchmaking service.
Many, perhaps most, clients have made decisions to contact selected women based on the online database of still photos and profiles only to reverse these decisions after reviewing video taped interviews. Likewise, the decisions would be firmed up and any doubts would disappear after a client receives and played the video tape with the interviews of the ladies he was attracted to initially. No wonder that local clients historically had faster results in general than out of state clients (who did not have the advantage of viewing any video interview 'on the fly'.
That situation has changed now! No matter whether you live across town here in Bethesda, or across the country in Vancouver, WA, or across the Atlantic in London--in the comfort of your home--you can view as many video tape interviews of real women in real time as you wish.
Today, you will find an updated database with links to our RealServer that hosts files of about 400 video taped interviews. New interviews will be added as soon as they are recorded and the tape arrives in my office (approximately 15 interviews twice a month). There is no more waiting for the tapes to be copied and for the mail to arrive. With a click of the mouse, you will see RealVideo format interviews which will automatically match the speed of your Internet access—V.90, ISDN, or even DSL/Cable Modem!
I selected the RealVideo streaming format because the player is free and the largest number of players in cyberspace use the RealVideo format. In short, RealVideo seemed more readily available for my clients. If you don't already have the free RealPlayer, you can follow this link to RealNetworks.
Converting approximately 400 4-7 minute video tape interviews from 8mm tape to RealVideo format was no small undertaking. The overall quality of the interviews in RealVideo format is very good. Nevertheless, during the digitization process we learned a lot about how to make the video tape interviews better for a digital format. While some things make little difference for analog video tapes viewed on a television, these same issues present a major impact to compressed, digital video seen on a high resolution monitor. Thus, some of the video tape interviews are being recorded again in Moscow and Kiev using the new techniques which make the content better suited for our new focus.
Some interviews are available on the public preview page for prospective clients to watch. However, the other RealVideo format video interviews continue to be password protected inside the database. You can read more about why the database is protected in Get to Know Us Membership Information.
No longer will I have to ask a client to wait for us to duplicate and mail a video tape interview. Now, I can ask, if you watched her interview online yet? This new feature, available exclusively from Encounters International, is very exciting to us. I hope you will be equally as excited by this service enhancement. This was all developed, designed, and executed with our clients in mind. I believe that having the ability to view the ladies' video tape interviews online will have a tremendous positive impact on our ability to bring together perfect partners from separate continents.
By now you can tell that I think this is a very big deal for my clients. Well, take a look and I think you will agree with me. After all, 'seeing is believing!'