Saturday Club Social at Lake Needwood in Rock Creek Park
July 27, 2002
July weather is amazingly hot this year and the beaches are overcrowded. So, in selecting the meeting place for EI monthly get together we had to take the weather into account. Lake Needwood in Rock Creek Part in Rockville area came up as a perfect place to be on a hot midsummer day.
Thus, Encounters International invites all its extensive network of single clients and families with or without children to join us in the shady picnic area of Needwood Lake Saturday, July 27, 2002 from 2 PM to 7PM.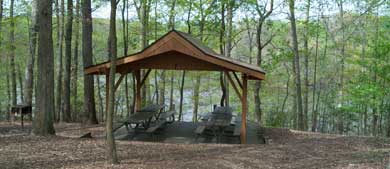 Picnic area on Lake Needwood
The tour guide describes Lake Needwood as "a popular Mecca for those seeking the great outdoors and a little splash-oriented fun. This freshwater body is entirely surrounded by the wooded hills and valleys of Rock Creek Regional Park. The northern tip of the lake actually extends underneath Needwood Road so that there are indeed moments when you can be surrounded by water on two sides on a lazy Saturday afternoon drive"
Additional attractions for singles and families with children alike include row boats, canoes and pedal boats that can be rented at the Needwood Boat house. Row boats and canoes can be rented at an hourly rate or for the day. Pedal boats, most popular with families and young children, can be rented by the half hour.Yet another boating excursion on Lake Needwood to consider is aboard the Needwood Queen. The Needwood Queen is an outboard powered pontoon boat that can accommodate up to 20 people. This floating tour departs on the hour between noon and 4pm.
Lake Needwood is located in: Rock Creek Regional Park
6700 Needwood Rd.
Derwood, MD 20855
301 948-5053

For further information or directions please call (301) 495-2525
I am looking forward to seeing everybody at the lake. The admission to the park is free but we ask all the participants to bring picnic baskets, so that we can share good time and food as much as we wish. Also, Bill Lawson and I will share with you our Moscow/Yaroslavl trip experience and I'll try to bring the hard copies of new ladies' photos for your preview.

A special note for the local ladies without cars. Those of you who need a ride please plan to meet at Twinbrook Metro station at 1:30 pm and I will arrange for your pick up.