Yaroslavl - The Newest Place To 'Encounter' The Woman Of Your Dreams!
I am pleased to announce one of the biggest additions to Encounters International. We now have an overseas office in Yaroslavl, Russia. This is our third overseas office and fourth counting Bethesda, Maryland. The new Yaroslavl office is a very exciting event for Encounters International and especially for our clients.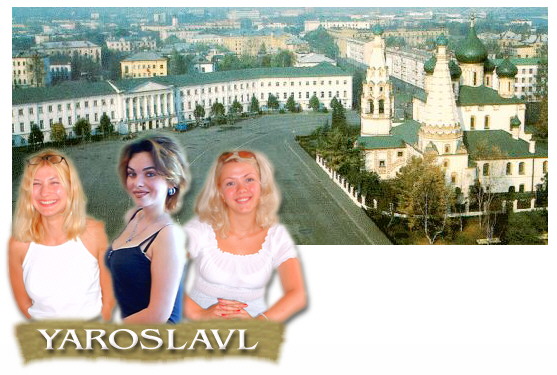 For quite some time, we have been considering the possibility of opening an agency office in a smaller Russian town. As you know, we currently maintain two overseas agency offices in Moscow and Kiev. These are both large, sophisticated capital cities in their countries. As such some of our male clients have had a distinct disadvantage because they live in small or rural American cities.
At times clients have become disillusioned when courting a lady from a big city. Whether real or only perceived, it seems like there is also intimidation when contacting a lady from a major city environment. It can be represented like a country boy and city girl view.
One client even went so far as to call off an engagement because of second thoughts about the differences in populations. He wrote in a letter to his fiancee: "This is a very difficult letter for me to write. I'm sorry I've been silent for so long. I've been doing a lot of thinking about you and about us. I don't think that you could ever be happy here in my town with me. My town is too different from Moscow. I don't think you could like it here, I think you would be lonely…"
Along with the rapid economic development of major Russian cities in recent years, I have noticed some changes in the expectations of the ladies who live in these cities. For example, the number of ladies that drive their own cars to the agency offices has increased substantially in the past few years. Also, it is common for their personal expensive cell phones to ring during interviews now. Finally, the number of foreign countries that these ladies have visited in their vacation time makes some clients apprehensive. Especially, if they have done little international travel themselves.
That is not to say, there is anything wrong with this. On the contrary, it has become easier to match ladies from Moscow and Kiev with clients living in similar sized metro areas and with similar lifestyles. As mentioned above, this can represent a problem for clients outside large population areas.
With the addition of the Encounters International Yaroslavl office, I am better equipped to match ladies from this smaller town environment with clients seeking these characteristics or clients that live in rural areas of the country. Once again, matching expectations are important. Placing a small town lady in a major city with its "black tie" receptions and charitable balls can be overwhelming to her, causing the same problems as the other way around!
Why did I select Yaroslavl, Russia? The answer is very simple, Inna Sorokina. Anyone who has visited the Bethesda office or at least one of our Saturday Club social has surely met Inna. As one of the most beautiful and talented exports from Yaroslavl, many men have fallen in love and proposed to her on the spot! Those that would like an introduction now, can visit the Staff Introductions page. Inna has been an extension of my ears, eyes, and arms for the past seven years. Being born in Yaroslavl, she has an extensive 'network' of family and trusted friends in that area. Based on this, it was relatively easy to start an office in Yaroslavl, Russia.
The Encounters International office in Yaroslavl opened in July 2002. About 40 ladies from ages 18-40 gathered at the office to see and hear my presentation of the Encounters International story. Most of them wanted to join. However, the criteria for Encounters International membership in Yaroslavl are the same as those in Moscow and Kiev. The ladies' appearance and sincerity must meet the usual high standards to be accepted as a member. Also, the requirement for English fluency increases with age. Therefore, not all in attendance were accepted. Only about 50% of the first group were accepted and entered into the online database.
I am sure that you will find the ladies from the new office in Yaroslavl to be more down-to-earth, more comfortable to live in the environment of a smaller city, more genuine and less pretentious. I believe that opening Encounters International office in Yaroslavl will make our clients' choices considerably wider, while keeping personalized approach intact.
That means that every lady in online database, whether she was accepted by Moscow, Kiev, Yaroslavl or Bethesda, has been personally interviewed and videotaped. She has immediate access to the database of EI clients, can inquire about each and every one of them and receive honest and objectively favorable information. She is helped to initiate the first contact with any of our clients by e-mail. Likewise clients have daily access to all four offices and office managers by e-mail or phone. At any time they can received professional advice and recommendations. I am sure that "diversification" will increase the chances of success and will make shorter the time it takes to find the perfect match.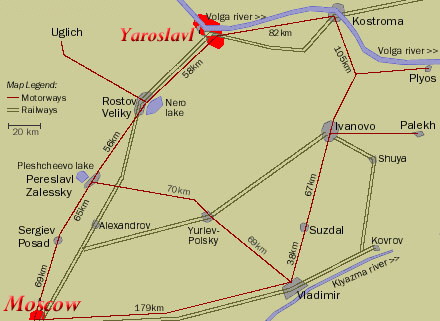 Yaroslavl, Russia is located about 170 miles northeast of Moscow, on the famous Volga River. Its population is over half a million people. Although it is an ancient city (founded in 1010), it is a young city; population wise. It is saturated with colleges, schools and universities. Students from Yaroslavl itself and out-of-town constitute a considerable part of the population, making it attractive for Encounters International to have a permanent office there.
Yaroslavl is really a beautiful place to travel to. It is considered to be the major tourist attraction by itself. Add to that beautiful ladies that you are going to meet during your romantic trip and you will have a complete picture
Yaroslavl is also an inexpensive city. During my recent trip to both Moscow and Yaroslavl, I was pleasantly surprised that almost everything in Yaroslavl costs less than in Moscow. That includes accommodation, transportation, translation, food and so on.
Yaroslavl is a safe city. Compared to Moscow, wide spread militia practice of stopping males who look like Chechen (a little darker skin with mustache) for document check, Yaroslavl does not have this problem.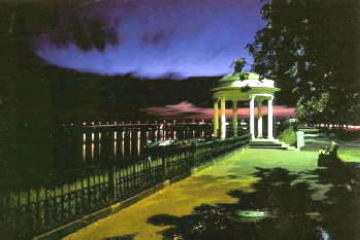 Yaroslavl is a romantic city. Most of the night life is gravitating to the boardwalk along Volga River with its parks and hidden alleys, small cafes and other night attractions. There are plenty of places to enjoy and share time just with your lady and nobody else.
Yaroslavl is not far from Moscow (3.5 hour ride by car or 4.5 hour ride by train). For clients traveling to Moscow, Yaroslavl can be an option that you can choose while "playing it by ear." This doubles your chances to find your true love. Likewise, clients traveling to Yaroslavl can always rely on Moscow office support should they decide to meet ladies from the larger city of Moscow.
Yaroslavl is surrounded with other relatively small towns including Ivanovo, a capital of Russian textile industry that is known for its exclusively female population. Svetlana, Yaroslavl office manager is very enthusiastic about including these towns into Encounters International regional office.
Svetlana Zainkova is the Yaroslavl agency office manager. She was trained as a social worker in the area of arts and culture. Therefore, communicating with people has always been both her profession and her hobby. Svetlana has an extensive circle of friends and acquaintances in Yaroslavl. That helps bring the ladies who would not have courage to do it on their own. Such ladies, that have never been listed in any agency before are the biggest asset of Yaroslavl office. Svetlana reports that by now 30 more new ladies have applied for membership. This makes me believe that the Yaroslavl office is going to be the fastest growing.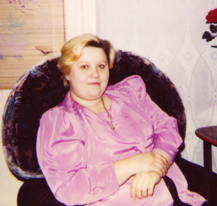 "Bringing loving hearts together is an important mission and I am immensely happy to have the opportunity to carry it out. I am very thankful for the trust that you show to me and I am looking forward to meeting you in Yaroslavl"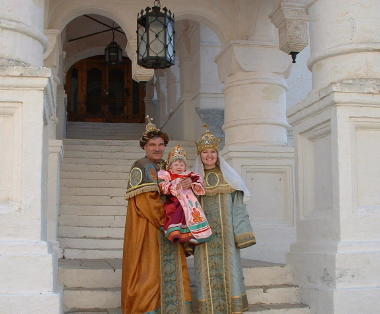 As I was writing about EI new Yaroslavl office, I received an e-mail from Len Ludwig, who joined Encounters International as a member in 1996. He became engaged an married to Yelena Stepnova from Moscow in 1997. Their beautiful daughter Katia was born some time after that. The message from Len came with an unusual subject matter "Len, the terrible and family".
The word "terrible" in the center of the phrase singled out this message from the rest of the messages received that day. Thank Goodness, nothing "terrible" happened when I opened the message. On the contrary, when I saw the photograph, I laughed at the resemblance between Len and the movie character in the film "Ivan Vasilievich changes his profession" (a Russian version of "Back to the Future"). Wow, indeed, I would never guess that it is an American guy from California who blends so perfectly well into Russian historic environment. Of course, having a Russian wife and daughter helps to complete the image
Len wrote: "Thought I would send a picture from our recent Russia trip in June. This time we visited the golden ring cities. Katia's favorite city was Yaroslav because of Masha the bear who lives inside the Monastery there. Hard to believe that the Volga actually freezes over in winter."

Best wishes to you and your staff.

Len, Yelena, and Katia
I couldn't help but ask Len to share the picture with all of you. His letter came as an unexpected and unsolicited endorsement from a happy EI couple of five years. Consider it as a "green light" on the road to the final success in your long search for a perfect wife and the marriage "made in Haven" for the rest of your life.