Annual Saturday Club Swimming Pool Party
June 29, 2002
It's June and it's time for the annual Encounters International combined Saturday Club Social and Swimming Pool Party! This year, the two-for-one party is hosted by John and Tatiana Bell. The event will begin at 5:00 p.m. and will be held at the Woodley Garden Swimming Center. The address is 850 Nelson St., Rockville, MD.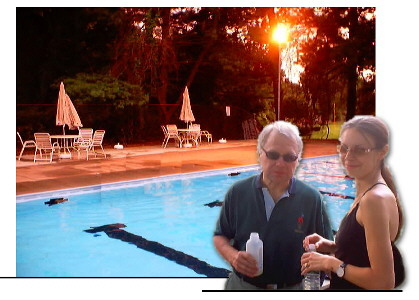 The tradition to for the Saturday Club barbecue and late afternoon swim goes back several years. When John was a single client of Encounters International, he received (actually earned) the nick name of "the most challenging client". Nevertheless, he always had a positive outlook which brought him success in both his professional and personal life. John attributes his professional life success to his own talents and abilities. However, he will tell you that he owes his personal life success to Encounters International!
Why? Because his wife, Tatiana, is truly the woman of his dreams. After a long search, he met her in Kiev, Ukraine. The couple married in June 2001. Therefore, this month, John and Tatiana celebrate their first wedding anniversary. I am glad that we all will have a chance to join them in this celebration at our swimming pool party.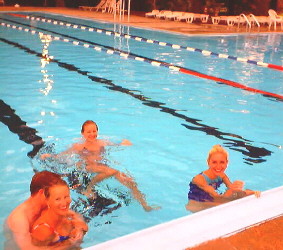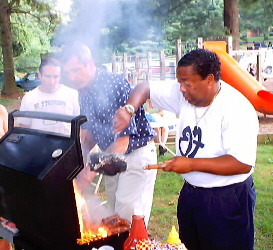 Encounters International swimming pool parties are the favorite activity for clients and Get-To-Know-Us members. The pool has been renovated in the past year. It looks better than ever before. It has excellent cooking facilities and a large ground to for volley ball or badminton. Cooking out is always fun. More fun can be only when you cook for a beautiful lady. Of course, there will be many of them. This is always the case at our previous swimming pool parties. In fact, one of the beautiful new arrivals, who can not wait to attend her first Saturday Club Social, is Oksana Stadniychuk. She told me that she hoped that her dream will come true: that she will meet a man to spend the rest of her life with. It happens quite often at our Saturday Club Socials!
Cooking out at our Saturday club Socials cannot be imagined without Wesley Allen. Wesley (right photo) invariable takes charge of the grill and looks like a magician performing his own elaborate ritual over the grill. Wesley takes this self-appointment as "The Grill Man" very seriously. No Encounters International party would be the same without Wesley's cooking magic.
I hope that the weather will be warmer this time! Last year the photographs above were taken when only the bravest ladies got in the cold water. Especially since John allows us to stay in pool long after the official closing hours, I hope that we'll take advantage and enjoy late night swimming that would be so hard to arrange under other circumstances. The party will start at 5:00 p.m. I look forward to seeing you all there.
2004 |2003 | 2002 | 2001 | 2000 | 1999 | 1998 | 1997