Looking Forward to 2002
What holiday season is complete without a celebration? At Encounters International we cannot let the opportunity to host a party pass us by. The next big event for our family of clients is the December Saturday Club social.

On December 29th, we will have the Encounters International New Year's Eve
Party. The festivities begin at 6:00 p.m. and will end sometime after
midnight! The address is our temporary office:
8527 West Howell Rd., Bethesda,
MD 20817
Looking Back at 2001
Earlier in December, our most challenging client John Bell and his beautiful wife, Tatiana, hosted a mini Saturday Club at his law firm in Rockville, MD. John's law practice has taken off in an new and unexpected direction since his marriage.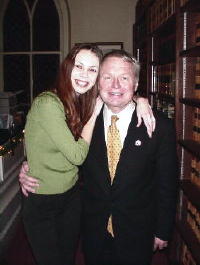 Tatiana works full time at the firm as the receptionist and an interpreter. Also, the firm has a Ukrainian attorney on staff. This has equipped John's law firm to be in the unique position to provide legal services to Encounters International clients. His firm is able to prepare bilingual wills, contracts, and prenuptial agreements.
With so many of EI clients being John's clients as well, it was no surprise to hear English and Russian spoken in just about every room during the party. The atmosphere of stability and true happiness projected by John and Tatiana Bell, made the issue of prenuptial agreements seem less dreadful to both Americans and Russians!
As a follow up on the marriage between John and Tatiana, it was certainly a pleasure (although completely expected) to see the happiness on their faces. You know, there are promotional 'happy couple' photos on every web site! There won't be any images of their disagreements or divorce proceedings. However, seeing photos of the couples during the stressful first year of marriage is a completely different story. The first year of marriage can be a difficult time. Add the stress of an intercultural marriage, and the adjustment toward 'togetherness' and the first year can be very difficult. When I saw Tatiana's loving smile and expressions toward John, I knew that it was a sign of well adjusted family. I have no doubt of her happiness since I have observed it for myself on many occasions!
There is an old saying that is the same in Russia and America; "A man is happy when the woman is happy." I guess you could turn that around to mean; "An unhappy woman makes for an unhappy man." In either cliché case, John and Tatiana are a happy couple. John, I will take a little credit for that also.

Winds of Change
Clients will sometimes ask why they continue to see some of the ladies in our online database for a long time? Perhaps, prospective clients would have the same question if they had assess to the database long term. What is wrong with them? Are they really available? These are two other related questions that I hear.
A Russian lady can remain in our database for the same valid reasons that male clients like John Bell are members for so long-commitment. Men and women alike are often more interested in finding the right person instead of the first person. Soulmates are not found overnight in some cases. It can take years of serious searching, meeting, and dating to find the person they consider a true soulmate. Still other clients will know at the first meeting that this is 'the one.'
Two ladies that fall into the careful search and check category of finding their soulmates are Inna Zhuravleva and Olga Goncharuk There was nothing wrong with these two wonderful ladies. They simply chose to be highly selective, patient, and committed to Encounters International.
Inna and Olga both joined Encounters International at about the same time, 1995. Since joining both ladies have been very active participants in the Encounters International social scene. They attended Saturday Club Socials, and the annual Open House on a regular basis. Inna and Olga met several of our male clients and even dated some of them. However, the spark, magic, or feeling that this was a soulmate just was not there.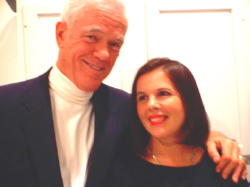 After being in the online database for about six years, Inna found her soulmate in Randolph Teague. Randolph, a retiered air force officer joined Encounters International in September 2001. He was visibly excited about the prospect of going to Moscow or Kiev at Christmas time. He did not know those Yule travel hopes would be dashed for good reason.
Shortly after his joining, Inna noticed his profile and initiated contact with Randolph. They seemed to get along well on the telephone. However, everyone knows person-to-person is a different story. At the end of her surprise call Randolph invited Inna to dinner at a local restaurant. The evening went very well for them both. The start of the dinner signaled the end of his travel plans for Randolph.
Randolph Teague and Inna Zhuravliova were married on November 26, 2001. We send our congratulations to them both on this happy occasion! This story provides us the opportunity to bestow the title of least challenging client on Randolph.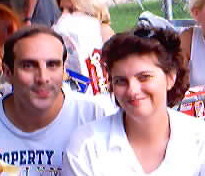 Olga's story is a little different. Olga and Robert Fuentes were married on December 13, 2001. The wedding happened just prior to the anniversary of the third year after meeting. Olga and Robert were introduced at one of our Saturday Club Socials in early 1999. Our sincerest good wishes are extended to Robert and Olga.
I hope to have the complete stories of Randolph and Inna and Robert and Olga, from their point of view, in an upcoming edition of What's New. But, for now, all I can add is that we sure miss these two wonderful ladies. I am not sure our database will ever be the same without them. Finally, based on the effort that Inna and Olga put into this program, I know their marriages will literally last a lifetime!
The fact that membership at Encounters International is until you are engaged, means that there is no artificial time line applying pressure to you. In other words, the ladies and gentlemen who join our agency are not forced to make a choice because their membership is about to expire! We do not remove photos or stop e-mail communications because a time period has expired. Nor would we still be in business if we extorted additional fees for further time extensions.

Success Attracts Success
It would seem logical that as the number of engaged and married Russian ladies inside the USA increases, the number of them that are available in the online database would decrease. Actually, just the opposite is true at Encounters International! I think the expression, "success attracts success" is really true. Instead of the database shrinking, it is growing. We are experiencing an unusually high number of beautiful, single Russian ladies (living in the USA) joining Encounters International. Of course, some of the applicants are not accepted because they do not meet our strict membership criteria. But, the more who apply means more who are accepted!
You will be delighted to know that nearly all our newest members will be attending the Encounters International New Year's Eve Party on December 29th. As I mentioned above the party will begin at 6:00 p.m.
If your annual new year's resolution involves meeting the right person, then this party will be one you will not want to miss. This may be the year that begins with the resolution being met. As we march toward our nineth successful year. I invite you to be an early part of our combined success in 2002. The year for you is 2002!

THE WALL STREET JOURNAL Dec. 8


There's a new biological clock out there — the one ticking inside bachelors. After decades in which men statistically had the upper hand in the dating world, the demographics have reversed: For a big chunk of the dating pool — people ages 30 to 44 — the number of single men and women are now about even, or in some cases, slightly tipped in women's favor. The odds are especially dismal for men looking for younger mates: By 2010, according to the U.S. Census Bureau, men in their late 30s and early 40s will outnumber women five to 10 years younger by two to one.

What's happening here is a subtle but significant change in the birth rate. While the numbers of men and women born every year are roughly the same, the overall birthrate dropped 40% from 1955 to 1973. Because more than half of all men marry younger women, that means their pool of prospects shrinks a bit every year. "The tables have turned," says Sherry Cooper, an economist who has written about demographic shifts. "Guys in that 35-year-old range are going to have a harder time"


By Nancy Anne Jeffrey
Merry Christmas and Happy New Year!
Made In The USA
With Russian And American 'Components

When prospective male clients talk to me about joining Encounters International, one of the most popular questions is on the subject of meeting Russian ladies living in the USA. In some cases, they believe that trip to Russia presents too much risk or expense. Actually, there is nothing wrong with this view of the situation. Of course, I always advise them of the fact that there are more available Russian ladies in Russia or Ukraine than in the USA!
Having said that I would like to give you some most recent examples of successful matches made during our Saturday Club socials in Bethesda or other Maryland locations. These examples are the evidence that matches, engagements and ultimately marriages do happen without travel overseas!
Wesley Allan and Elvira Borodetskaya (met at EI swimming pool party in June, married July, 31) and Tom Light and Toma Solodilina (met at the last Halloween party in October) are examples of the "backyard" matches. Like many other local ladies they joined Encounters International on the day of one of the Saturday Club Socials or just a few days earlier. I did the in-office interview and video tape interview. As soon as I placed each lady in the on line database, I was notified by each that they should be added to the "Recently Matched" web site section instead! What a wonderful problem to deal with.

These two examples are a sample of what can happen at a Saturday Club Social. Not only are these couples equally matched with their life expectations and values, but they had an extra advantage. After I introduced them (based on what I knew to be their common views and values), they had the opportunity to experience the instant 'chemistry' and 'body language' first hand. These are signs that nobody can miss.


The usual follow up questions from EI prospective clients is about the need to live in the metro Washington, DC area to meet the ladies at Encounters International. It is not necessary to live close to EI office in Bethesda, MD to meet the woman of your dreams. (Of course, it is advisable that you plan at least one visit to one of our exclusive Saturday Club Socials.)
Elizaveta Zhigalova, joined EI in March of 2001 from Washington, DC. She moved to Denver, Colorado three weeks ago to join there one of EI clients, who saw her in EI database, contacted her and offered to meet in his home town. This first meeting was a success. It followed by a number of other meetings and the Elizsveta's decision to move to Colorado.
ElenaVladimirova lived in Atlanta, Georgia, when she joined EI almost a year ago, in December 2000. One of EI members from Virginia noticed her in the database immediately and contacted her. The fact of the matter was that he had already developed the relationship with a lady from Moscow, purchased his ticket and was ready to go and meet her there. At the same time he increasingly enjoyed talking with Elena Vladimirova over the phone. His Moscow trip was the only interruption in their regular communication and he new that he was missing that. No wonder that he came back from Moscow "empty handed". And he did not care, because he could meet Elena without delay. This time he purchased the ticket to Atlanta and they met for the first time. Atlanta meeting with Elena was much more satisfying than all the dates that he had in Moscow earlier. The shorter the longer of it, Elena Vladimirova has moved recently to Virginia to be closer to my client.
Although both Elizaveta and Elena are on the 'Recently Matched' list, they are technically not engaged yet, and I can not place their photos here as engaged couples so far. I know it will only be a matter of time before the question is popped to each of these beautiful ladies.

.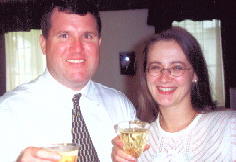 For Don Skalitzky (San Diego,CA) it took one year of dating Zhanna Bukina (Arlington, VA) before he he decided that she was the right person for him. They are an example of a successful cross-country meeting and marriage. (Click on photo to read their story). Their story shows that Don was concerned about finding the right person. But, equally important, was that Zhanna was committed to him and not in a hurry to marry the first American man she met. Zhanna relocated to the west coast to be with Don over one year ago. Usually the ladies keep in touch with me as their life progresses. A few weeks ago, Zhanna sent me this note about her life in California with Don.
"This is just a note to say Hello and let you know that we are doing great. Don and I are getting ready to celebrate our first wedding anniversary this October. Now, I am fully incorporated into my new life in California. I started working - teaching little children music and giving Russian language lessons. I am also doing some translations and singing in an Orthodox church choir, as I did in D.C . Don is as wonderful as ever! Thank you for getting us in touch with each other!!!
Obviously, in every long distance relationship, someone is going to have to relocate. When the lady is in Moscow or Kiev, it is easy to know who will relocate. Even within the USA, in most cases, the lady will be the one moving to join her fiancée or husband.
There are a few cases where the lady does not relocate. The man decides it is better for him to relocate to be with her. There are a number of noble reasons for this generous compromise. Here is one example.

Valentina Stepanova lives in Colorado. She recently became engaged to Porter Hamphry one of my local clients. Shortly, after the official engagement announcement, Porter let me know that he had decided to sell his beautiful Bethesda home and move to Colorado.
As you look around the Internet at different matchmaking websites, you will find that they are either a 'local' agency or an 'overseas' agency. By that I mean that "they" will imply that one method (obviously, the one they offer) is the best way to achieve your goal. For example, an agency in Russia will want to convince you that overseas travel to Russia is the best (maybe only) way to meet the woman of your dreams. Whereas, the local agency wants to let you know that staying inside the USA for your search is a much better option. It is very confusing, isn't it?

The bottom line is that Encounters International provides our clients with access to both methods. Unlike the one-dimensional agencies, you are not forced to pursue one specific direction when you join Encounters International! I find most clients determine a hybrid of the two methods (USA and Russia/Ukraine) works best for them.

Still some clients come to us convinced that one method of meeting their goal is absolutely the best. Then, they have a change of heart, so to speak. Fortunately, our clients find the freedom to adjust our program to meet their needs and not the other way around! This flexibility at Encounters International means that our clients can meet and marry the woman of their dreams without changing agencies several times, or wasting time, money and emotions. Our success is based on meeting your individual needs; not requiring you to follow rigid agency guidelines. Your permanent success is based on our unique ability to offer clients the resources they need and a sincere desire for your success.