Encounters International Featured on Local Television Program!
May 2000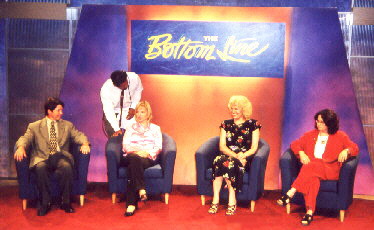 Don't miss The Bottom Line featuring Encounters International clients and Natasha Spivack on Saturday, May 13, 2000, 7:00 p.m. WBAL-TV Channel 11.
First, I want to take this opportunity to express my appreciation and a sincere thank you David and Elena Kulick as well as all of you who came to the studio and participated in The Bottom Line talk show. The show will be aired on Saturday, May 13, at 7:00 p.m. on WBAL-TV, channel 11.
Our segment's original name was "Mail Order Mates." But, since Encounters International personalized service was the only agency featured in it, the overwhelming reaction of our couples in the studio made the producer strongly consider a name change. My clients were adamant explaining to the producer, behind the scenes, that the method they chose to find their bright and beautiful wives has nothing to do with mail order or catalogs! On Saturday, we will all see if their efforts paid off.
One of the Encounters International couples, the Kulicks, was invited to participate on the discussion panel. David and Elena were married 4 years ago and were featured in the March 1996 issue of the Washingtonian Magazine. That was the time of their wedding preparations.
They brought their wedding album to the show. One of the pictures showed David carrying his bride, Elena, in his arms across the threshold of his house. Right next to it is another picture (taken under the pressure of his Russian father-in-law) of David humorously punching Elena in the face. This is a humorous (and harmless) Russian prank tradition designed "to show her who is the boss." I guess it is a Russian twist to the American wedding tradition when bride and groom are expected to smash the wedding cake in each other's faces.
I don't know if the producer is going to show those pictures or not. However, they surely went along with the topic that was raised by another panelist, Leslye Orloff, Director of Immigrant Women Program. She was there to talk about spousal abuse, to women, in this type of relationship. I do not think that she found any support at all among the audience. Even those who stayed behind from the previous segment taping (about gay in scouting) seemed to take issue with her statistics.
In all fairness, her assertions and statistics had absolutely to do with Russian-American marriages. The facts and figures she presented was not related to the highly intelligent and self-confident Russian wives of my clients sitting in the audience. Perhaps, it would have been a different story, if we had had inhibited and poorly educated Latin American women mismatched with American men. That was the situation her 'research' was based on. At any rate, this is not the case at Encounters International.
Encounters International clients gathered outside the
TV studioaftert he show. A heated debate between the
supporters of Seafood and Cheese Cake Factory is about to begin!
Hungry, but happy that at least one restaurant in
Baltimore Inner Harbor is open at midnight. The
problem of choices was resolved by itself.
I hope that next Saturday Club, May 27, 2000 we will have a tape of the show and will be able to view it all together.
Speaking of the Saturday Club environment, taping of the show, albeit in the middle of the week, gave us another opportunity to get together. Since everybody was hungry, the only restaurant in Baltimore Inner Harbor open at this late hour was the place to be.
It felt like a "field trip" of our Saturday club social--the same mixture of married couples, single men and women; same jokes, and funny stories about Americans in Russia and Russians in America; same mixture of Russian and English...same happy atmosphere, when nobody wanted to leave.
On the way back home everybody was suggesting that we need more "field trips" in the future. Personally, I support this idea. That reminded me of a purely American expression that I usually have hard time translating into Russian when I come across it in the profiles of my clients, "I like to work hard and to play hard." I welcome all your ideas supporting the second part of this expression. Please keep reading for more exciting news.