Report on the EI Open House '98
Wedding. Pictures Are Worth a Thousand Words.
Norman's parents (sitting) at their son's wedding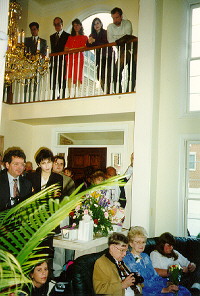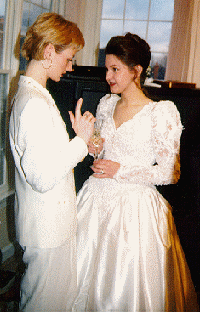 Last minute advice.
Elena's girl friend from Kiev Julia
Ostrovskaya, who arrived one week
before the wedding to join her fiance,
Tommy, another EI client is the
Maid of Honor at the wedding.
"How many companies feature a wedding at their annual meeting? Encounters International, based in Bethesda, did just that , with help from one happy couple last Saturday, Feb.21," wrote The Potomac Almanac it its article "To Russia, With Love" on February 26, 1998.
Norman and Elena May were married February 21, 1998 at the EI Open House in Bethesda, MD. From Norman's parents letter: "You were a charming and lovely hostess and so kind to open your beautiful home for this special occasion. It meant a lot to Elena to have the opportunity to meet other Russian wives. We enjoyed the wedding and we do thank you again for all that you did to make it such a joyous day for us all. With warm regards, Olive and Joe May".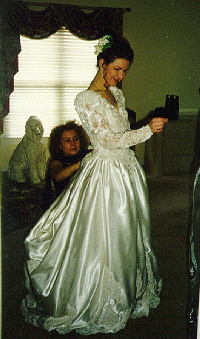 The final touch. In a few minutes
Elena Kobyakova and Olena Guley, EI client
(available!) and currently residing in the USA
will announce that the "bride is coming"
Elena is the 25th Ukrainian woman who got engaged through Encounters International since its office opened in Kiev over one year ago and the 5th EI American-Ukrainian couple who got married. EI Kiev office threw its own party on behalf of the couple and sent a congratulation fax from all of the EI Ukrainian women. The wedding had a tremendous emotional impact on all of our women in Kiev. More than ever they are ready to put all their efforts in order to be in Elena's place (and shoes) sooner rather than later. Don't let them down, guys! They need encouragement.
May's wedding received coverage in the local papers. Their wedding picture appeared also in the Sunday Washington Post front page article entitled The Search For Miss Right Takes a Turn Toward Russia
Those who arrived for the Open House a day earlier have had the opportunity to participate in the "behind the scene" activities. Frank Hardy, EI recent client wrote the following on our EI Client Exchange: " I really felt fortunate because I got a first hand look to see how these women actually behave. Wow do they cook. The bride was actually cooking the night before her wedding (now how many Americanski brides would do that?)"
What he probably did not see is that after the wedding Elena changed her wedding dress to the shorts, went to the kitchen and started washing the dishes after all the guests. She did it because she couldn't help it. Because that is what they taught her in Ukraine -- to appreciate and to give back. As a host of the party I was deeply touched.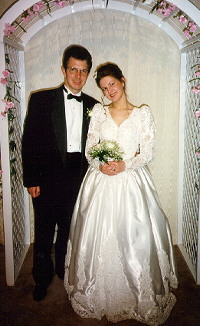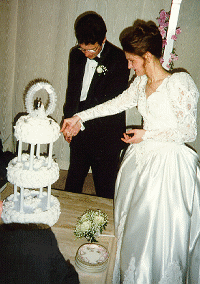 Norman May
Joined Encounter International in January, 1997
He went on EI personalized tour of Moscow and Kiev from June 4 to June 16, 1997
He got engaged in Kiev at the end of his trip in June, 1997
He was a member of Encounters International for 5 months
Elena Kobyakova
Joined Encounters Internaional in Kiev in March, 1997
Met Norman May in June, 1997
She came to the United States on a fiance visa January 13, 1998
They got married February 21, 1998
Their first baby is born _________(to be filled out in due time)
The wedding cake from a Russian bakery
has an "American look" and "Russian taste"
Scott Harrill and Guinness Book of World Records
A true story
Scott Harrill is one of the single men attending the EI Open House
in order to find out more about Encounters International and to decide
if it's service is right for him.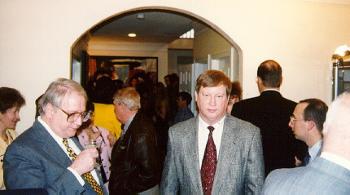 The reaction to this story differs depending on who is a listener - a male or a female. If it is a male he would shake his head in disapproval and would say skeptically: "I don't know..." If it is a female her eyes will get clouded with romantic thoughts, the smile will touch her face and she would say : "It is unbelievable..."
Scott Harrill contacted me a couple of days before the Open House. He told me that he is from North Carolina and that he is planning to drive to Bethesda to attend the Open House. There was nothing unusual about his telephone call. It was just one out of dozens calls received in those hectic days. Therefore when he came to me and introduced himself, I looked at him professionally and thought: "Another marriage-minded single who can be happily married in a couple of months if he joins the service but probably too cautious to do it." Little I did I know at that time...
Sunday. Encounters International was open next day to accommodate out of state clients. Scott Harrill was the first one to step in. His first words were: "I almost decided to leave yesterday. I think the woman I am looking for does not exist." Needless to say that a statement like this put me on defensive. But as the story of his life was unfolding for me I started changing my opinion. A 49-year-old sales representative for Christmas Decorations company from a small NC town with no single women around, his true hobby was photography. Proudly he handed me the album of his shots. Once again as a professional I appreciated the looks of the photo models and the quality of work he'd done. I would have accepted them as EI female clients had they passed the screening for the "inside beauty", I thought to myself with usual sense of humor. At the same time I made a mental remark that if his expectations are based on the hobby experiences he will become what we call "a challenging client". With this uneasy thought in mind I signed him up with my service.
Monday. Scott Harrill is back in EI office ready to spend his last day in Bethesda watching videos. My Moscow office manager who came to the USA to attend the Open House was helping him with his selection process. Five hours later his list of five women was on my desk. Frank Hardy's fiance-to be was on the top of it. "Oh no...", I thought. As I started explaining why it is not a good idea to contact her with Frank flying to see her on the "wings of love" in two days, the telephone rang. It was Irena Gushina, one of our currently "local" available Russian women who was calling me to thank for the Open House invitation. "Did you meet Scott there?" I asked thinking what a good match they might be. No they did not see each other at the crowded Open House. After a brief conversation on the phone when I passed the telephone receiver to Scott and put Irena's pictures in front of him he changed his departure plans and decided to stay one more day in Bethesda to meet Irena tomorrow.
Tuesday. They met in my office. Both were nervous but my gut feeling said that they are just created for each other. Scott invited Irena and her 4 year old daughter to come to visit him in North Carolina. She agreed.
Wednesday.From Scott Harrill's letter to EI office: "I awoke the next morning in a panic. What had I done? Was I crazy? I didn't know anything about this woman I had brought all the way back home. That day was a strain on all of us. I didn't know what to think or say. I showed her around the place I work and introduced her to my father and sister. Wednesday evening I brought her roses (25). She was genuinely surprised and pleased. I was becoming more enchanted by her every day. I realized that I would never meet anyone nicer than this woman. And the fact that she has such a beautiful daughter was a plus also".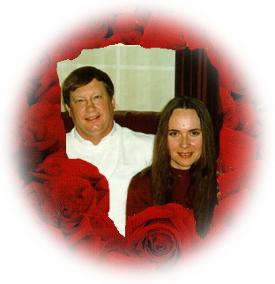 Thursday. Scott continues writing in his letter to the EI office: "The first and the second day we both felt overwhelmed. I had to make up my mind quickly. Thursday I proposed and she said yes."
Friday. "Friday we went to the courthouse to get a marriage license".
Saturday and Sunday. "To lighten things up we went on a vacation trip to Pigeon Forge, TN this past weekend. We went shopping at the outlet malls - bought she and her daughter some clothes, Reeboks, and a trunkfull of supplies. Polina spent two days riding the kiddie rides and feeding some ducks by a stream (pictures to follow). We all had a great time."
Monday and ... happily ever after"By Monday we were like an old married couple. Things are great between Ira and me. Thank you! Thank you! Thank you! I really didn't think it would be possible for you find someone for me - especially someone that I could be so happy with. "
If you are a man reading this and in case you have an uncontrollable desire to shake your head in skepticism -- it is envy speaking. Don't envy, don't predict anything. Rather raise yourself above that and send your good wishes to Scott and Ira Harrill.
If you are a Russian woman reading this, you will share that "Pretty-Woman"-movie feeling of coming in touch with a fairy tale. Just this time it is a real life fairy tale and we, at Encounters International are more than ever proud to be a part of the process of bringing fairy tales into the lives of the people.