New Year's Eve Party (January, 1998)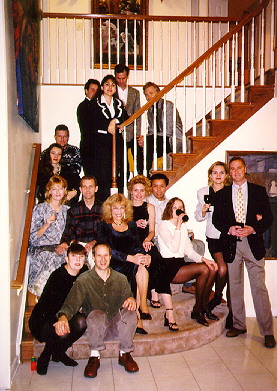 Encounters International couples gathered for the New Year's Eve party in Bethesda. Lots of fun for everybody -- American men, Russian women and American born children. My experience shows that Russian women do not mix up well with American women. In fact I do not know any Russian woman (including myself) who would claim that she has an American girl friend. Warning to the men seeking Russian women: be prepared to spend a lot of time in Russian speaking environment. And women remain women all over the world. They need to talk. That is why some couples cancelled previous engagements and eagerly accepted last minute invitation to the EI party. They cherish so much these opportunities when they can get together and talk without a fear of being misunderstood. What do they talk about? If the question whether American men make the best husbands remain open for discussions, the fact that they make the best fathers was established unanimously.
Encounters International wishes Happy New Year to all the Russian American couples, all the men seeking Russian women and all the Russian women who were lonely on this day. And may your wishes come true this year. May this year bring you as much happiness as these little girls can radiate from the top of their fathers' shoulders on this New 1998 Year's eve.
2004 |2003 | 2002 | 2001 | 2000 | 1999 | 1998 | 1997