Saturday Club -- Halloween party (October 31, 1998 )

Our first (September) Saturday Club social get together was a pleasant event. The Rosins family (featured in the Washingtonian magazine a couple of years ago as a newly wed couple) were happy to introduce the second addition to their family. After the champagne toasts to their happiness were pronounced they pledged to continue going in the same direction and "bring a new baby each time they come to see us"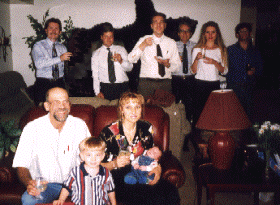 Although I introduced James from Virginia and Natalia from Kiev a few days before they came to EI Saturday Club, I believe that this event solidified their mutual attraction. A couple of months ago James was briefly engaged to another EI woman client from Kiev but that relationship did not feel right for either one of them when this woman came to the United States. More mature of the two of them James was determined to work out the differences; therefore he was very disappointed when Lena decided to leave for the Ukraine after a couple of weeks together in order to remain "just friends". Natalia's story was not a happy one either. She came as a fiancee of one of EI clients who did not feel that she was the right woman for him after spending with her one day in Kiev and a couple of weeks in Virginia. By pure accident she missed the plane which would have taken her back to Kiev. Trying to calm her down when she was crying in my office I told her that I'll introduce her to other EI clients. "They are the most serious about commitment and family, financially and mentally stable, they are not cheap -- the horror stories about cheap Americans do not apply to EI clients -- they are the best of the best single men on the "market" -- I told her -- because they joined EI showing their trust that we have the best women like you. Don't worry, you are in the right place to be and I'll take care of you". Natalia raised her big, red from tears eyes at me and smiled with appreciation. Soon after meeting a few other men at EI Saturday Club Natalia made up her mind and moved with James to stay in his Virginia home in order to get to know him better. James wrote to me summarizing his feelings: "Dear Natasha, I don't think I could ever thank you enough for giving me such a great opportunity to meet Nataliya. We are just perfect together. Everything is going great for us. I remember a while ago when I was in your office after Lena had went back to Kiev and you told me that everything happens for a reason and soon I would be Big Time happy. You were so right! Are you sure you are not a fortune teller rather than a psychiatrist?"
Congratulations James and Natalia! You are a good match and God bless you. I am glad that you both feel that EI's ability to reach out helped both of you not to feel abandoned and come out much happier than otherwise.
October Saturday Club coincides with the Halloween. For some of the women it is going to be the first Halloween party in the United States. I encourage everybody who is planning to come to have a costume on or with him/her. As usual the doors will be open from 12 noon until 5 PM. Let's have fun! And the fun part about our socials is that you, all EI members, are not just guests here, you are a part of our large EI family and we want you to feel that way. Your lifetime membership in EI is your key which opens EI doors for you in time of need and in time of joy.
After the first word of mouth about Saturday Club went out I received many calls and expect quite a crowd this time. Those of you who are still single may be interested in some of the Russian single women who expressed the desire to attend the Halloween party at EI. Please park down the street and walk to the house. I am looking forward to having fun time with you all!