Encounters International invites everybody interested in finding out more about American-Russian romance and marriage to attend an annual
Open House
Saturday, February 15, 1997
4:00pm to 6:00pm.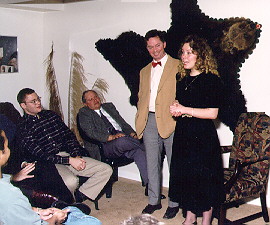 This is the fourth time that we will open the doors and welcome our engaged and married couples, our current members and all those who are interested in discovering the best-kept secret of the cold war: Russian women. For those engaged and married, the Open House is an excellent opportunity to make new friends and to feel a part of the fast-growing community of American-Russian couples introduced by Encounters International. They can also use this opportunity to share their success stories and be a source of inspiration for others. For single men, it is a great opportunity to find out if the woman of his dreams has a Russian accent and to learn the practical steps of turning that dream into reality. Additionally, this event provides the chance for an American man to meet a Russian dream girl face-to-face.
Meet these, and other single Russian women at the Open House
Find out why Russian women want to marry American men. Meet Natasha Zhuravliova, one of the Russian women who will be attending the Open House and hear her reasons for being a client of EI.View NBC's story and meet one of the featured couples, C.K. and Elena McCadams, now married. Find out about their feelings after one year together.
Celebrate with us the first birthday of Valeria Green, a "by-product" of Encounters International .
Learn from EI Representatives the secrets of courting a Russian woman. Find out the Do's and Don'ts when on a dating tour in Russia in order to make that trip a romantic success.
After the presentations, you'll be able to:

view photos, profiles and videotaped interviews of EI's 500 Russian women clients;
meet and socialize with single Russian women who are currently in the United States and are attending the Open House to meet you; and
talk with the married couples about their experiences in an informal setting.
Snacks & Beverages will be served - No fee - No reservation needed
Encounters International is located at 10419 Snow Point Drive in Bethesda, Maryland.
The telephone number is 301/530-7759.



Where to Stay
Manor Inn: 7740 Wisconsin Avenue, Bethesda, Maryland 800/874-0050 or 301/656-2100

Right in the heart of downtown Bethesda, this in-town motel is very comfortable indeed. All rooms are air conditioned and have cable TV. There are also public laundry facilities. Single rooms start at $70 during the season dropping as low as $50 during the off-season. Doubles are more like $80/$60. The Manor Inn is located about a block or so from the Bethesda Metro station and is surrounded by inexpensive ethnic restaurants.
Directions to Encounters International
By Metro

Take the Red Line to Grosvenor Metro station. Exit station turning right (west) and go down escalator under Rockville pike. Go left onto Grosvenor place and walk 1/2 mile taking 2nd exit on left. Walk (uphill) along Grosvenor Lane west and take 2nd right onto Fleming Avenue. Take the first right onto Snow Point Drive to 10419 on right side of Snow Point Drive.
By Car

From DC: Go North on Wisconsin Avenue which becomes Rockville Pike; Take an immediate right after crossing 495 (the Beltway), then move to the second lane from the right and follow the overhead sign to Grosvenor Lane. Take Grosvenor Lane to Fleming Avenue (3rd right) and turn right. Take Fleming Avenue to Snow Point Drive (1st right) and turn right to 10419 on right side of Snow Point Drive.