WOMAN HELPS MEN FIND MATES IN RUSSIA
THE WASHINGTON TIMES, WASHINGTON, D.C.
August 29, 1994
Story by PATRICE HILL



Matchmaker Natasha Spivack's (below) clients
peruse her catalogues before going to Russia to
meet potential wives.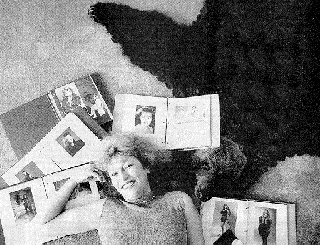 Natasha Spivack, a statuesque Russian blonde who has little trouble attracting men, has been a matchmaker most of her life. When she met her first husband, Boris, as a young professional in Moscow in the 1970s, she found the rotund Jewish dissident intellectually stimulating but not physically appealing, so she decided to introduce him to a girlfriend.
"I was a swimming champion with an elite job working as an Arabic translator for the Central Committee of the Communist Party," she said, noting that in those days, marriage to a "refusenik" would have ruined her career.
But Boris' romantic advances won her over, and true love prevailed in the end. The two were married, she lost her job, and after several dark years of bare survival in the Brezhnev-era Soviet Union, the couple won permission to emigrate to the United States in 1981.
Today, with a transformed political environment in Russia, Ms. Spivack is putting her matchmaking talents to work full time. Through her Encounters International firm, which she founded in her Bethesda home a year ago, she has raked in $90,000 helping American men search for domestic bliss with Russian brides.
For up-front fees of up to $2,500, the firm's customers peruse portfolios and scan videotapes of some 400 Russian women Ms.Spivack has selected based on their appearance, knowledge of English and desire to come to the United States.
In a videotaped interview with Ms.Spivack, an attractive, articulate brunette named Olga gives a compelling account of her chaotic life in a land where inflation, crime and poverty run rampant. "I will marry any foreigner who will take me away from this terrible country... Russia has no future," Olga says, quickly adding that she "cannot marry a man without feeling."
The Russian trade union committee president reveals that she will be forced out of work at the end of the year. Russian men "are all drunks, smokers or lazy bones - they can't keep a family," says Olga. "I want someone with no bad habits. ... I want to be happy and make plans for the future."
Despite her touching plea, Ms. Spivack said Olga may not appeal to American clients because she has two children and wants to keep working outside the home. "American men can find a woman like that here," Ms.Spivack said. Not everybody is looking for a housewife.
One well-to-do local banker confided that he was searching for an "alley cat" and found just what he wanted when a photo of a blonde in a bikini jumped out at him from one of Ms.Spivack's picture books. Ms.Spivack said the two were a good match because the woman was too disorganized and empty-headed to appeal to more serious men.
"After making their selections, the men initiate correspondence, introducing themselves and explaining their goals. If their faxed letters are returned and several exchanges prove fruitful, the men travel to Moscow, here a company office with three employees arranges for them to stay for one or two weeks and woo the women of their choice. The trip can add another $2,000 to the bill, but that has deterred few customers. Parties of suitors leave for Russia about once a week," Ms.Spivack said.
So far, she said, 20 customers have found the women of their dreams, are engaged and applying for visas to bring home their brides-to-be. Three couples are married and one is expecting a baby. Ms.Spivack will send faraway suitors copies of videotapes by mail for $35. But unlike competing catalog services that distribute photos of Russian women and offer to sell their addresses to American men, Ms.Spivack insists that all her customers come for interviews at her home before they approach any women.
Ms.Spivack says she understands the frustrations of being single in the United States. After coming to Washington in the 1980s and settling down as a Russian instructor at Johns Hopkins University's School of Advanced International Studies, her husband, Boris, was killed in an auto accident. That plunged her, with two children, into the singles market.
"It was torture for me to be single. I needed to be a family," she said. "I belonged to every club you could imagine - the Ski Club, the Tall Club, Montgomery County Parents Without Partners, Singles in the Same Boat, Great Expectations."
Most experiences were less than satisfying. "I got burned big-time" on several occasions, she said. Ms.Spivack finally got engaged to a member of the Tall Club, but their relationship ended in heartbreak. After an intense courtship, including a romance -filled trip to London, many bouquets and pledges of love, her betrothed asked to put off the marriage only weeks before the wedding.
Within a year, however, Ms.Spivack had recovered from the setback, met a new love and married again. Her husband, government economist Berel Spivack, helped her to launch her business but is stepping aside this month to avoid any conflict with his job. Ms.Spivack noted with satisfaction that one of her first customers was the man who jilted her. "He is still searching for a meaningful relationship," she said.
While she sympathizes with single women, Ms.Spivack does not offer to match American women with Russian men. "Russian men are romantic and good at courtship, but when they are married, they have traditional attitudes that American women will not accept," she said.
---