Page 19:
from the July 26, 1994
issue of the SUN.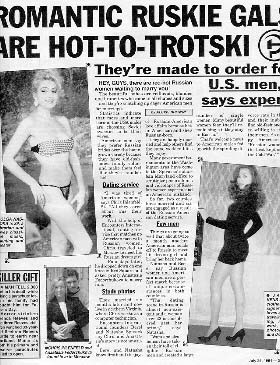 Hey, guys, there are red-hot Russian women waiting to marry you!
The beautiful babes are redheads, blondes and brunettes who come in all shapes and sizes -- and they're snatching up eager American men for marriage.
Statistics indicate that more and more born-in-the-USA males are choosing Soviet sweeties to be their wives.
American men say they prefer Russian brides over the home-grown variety because they have old-fashioned family values and make them feel like they're number one.
Dating service
"I was tired of American women," says Chris Ihlenfeld, 24. "All they cared about was their work."
With the help of Encounters International, a dating service that matches up American men with Russian women, Chris traveled to Moscow to meet his Russian dream girl.
Four days later, he dropped down on one knee in Red Square and asked pretty Anastasia Fedorchukova to marry him.
Study photos
They married six months later and now live in northern Virginia, where Chris works as a computer technician.
Encounters International founders Berel and Natasha Spivack say Chris and Anastasia's story is not unusual.
Berel and Natasha know firsthand the joys of Russian-American love affairs because he's an American and she's Russian-born.
They are happily married and help others find the same wedded bliss they enjoy.
Many government bureaucrats in the Washington area have come to the Spivack's suburban Maryland office to scrutinize photo albums and videotapes of Russian women eager to land American husband.
So far, two couples have married and six are engaged as a result of the Russian-American dating service.
Few Men
Things are going so well that about twice a month, another American man heads off to Russia to meet his dream girl and bring her back home.
Natasha and Berel say Russian women and American men are a perfect match because of unique circumstances in both countries.
"The dating scene in Russia is almost non-existent and a woman over 22 is considered past her prime," says Natasha.
"Wars and alcoholism have taken their toll of eligible Russian men and created a large number of single women. Many beautiful women fear they'll remain single if they say in Russia."
That's welcome news to American males fed up with the spiraling divorce rates in the U.S. and their inability to find old-fashioned women willing to stand by their men. As one happy American says: "Russian women were the best kept secret of the Cold War."
ALEXIS BROWNE