FROM RUSSIA WITH LOVE
Mailorder wives lining up to come here and their guys can't wait!
THE NATIONAL ENQUIRER
February 21, 1995
Story by JAMES McCANDLISH



From The National Enquirer:
on February 21, 1995, Encounters International
makes the headlines again.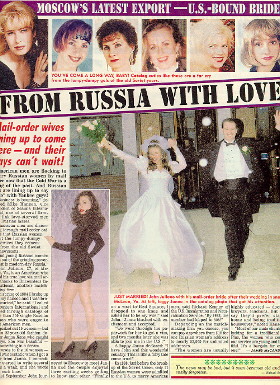 American men are flocking to marry Russian women by mail order now that the Cold War is a thing of the past. And Russian gals are lining up to say "I do" with Yankee guys!
American men are discovering through mail order catalogs that Russian women aren't the lumpy dumpy housewives they remember from the old Soviet era newscasts. And young Russian women want out of the grinding poverty that is modern day Russia.
John Juliano, 27, of McLean, Va., is an American who found his true love via mail order, thanks to Encounters International, another matchmaking firm. "In spring of 1994 I broke up with my fiancee and I was brokenhearted," he said. "I called Encounters International and looked through catalogs of more that 300 single Russian women who were eager to meet American men.
"I picked out 10 women but it was 22 year old fashion designer Janna Kens who caught my eye. She was beautiful like something in a dream. "I wrote to the 10 women and I was ecstatic when I got a letter from Janna. I immediately started to write several times a week, and she wrote back each time."
Last September John journeyed to Moscow to meet Janna and the couple enjoyed three exciting weeks getting to know each other. "Finally, on a visit to Red Square, I dropped to one knee and asked her to be my wife," said John.
"Janna blushed with excitement and accepted. We went through the paperwork for her to get a visa, and two months later she was able to join me in the U.S.!"
A happy Janna declared: "I have John and this wonderful country. This is like a fairy tale come true!"
In 1988, just before the breakup of the Soviet Union, only 11 Russian women were admitted to the U.S. to marry American men, said Richard Kenney of the U.S. Immigration and Naturalization Service. "By 1993, the number had leaped to 308!"
---