From Russia With Love
Local Woman Brokers International Marriages
By Karen Lee
POTOMAC ALMANAC, POTOMAC, MARYLAND, March 5-11, 1997
Clients of Encounters International attend a recentopen house to introduce Russian women to American men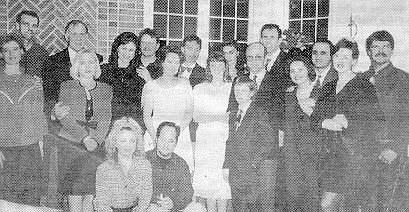 An amazing thing has happened: Russia, once known as the Evil Empire and the home of diabolical Communists, has apparently become a leading exporter of ... wives?
Yes, wives. Thanks to Bethesda resident Natasha Spivack, it's not just politically correct to make nice with Russian citizens, it's downright romantic.
International (EI), a marriage service that introduces American men and Russian women. After tree and a half years in business, she claims to have been the force behind almost a hundred engagements and/or marriages and 13 babies. Sure there have been three divorces, but compared to a hundred successful unions, that ain't bad.
a brochure touting an open house for the service featured a variety of Russian women ranging in age from 24 to 3, and pictured in poses that are alternately glamorous, casual, and, at least in one case, serious. Don't think this is some service that imports mail order brides, though. Spivack, she claims, is in the business of fostering true love.
A Russian native who emigrated to the United States 11 years ago, Spivack found herself a part of the singles scene when her husband suddenly died. She did the singles clubs and dances and eventually met her current husband. After talking to her single friends who were still in Russia she said, "I realized that single men here would benefit" from contacts with Russian women.
Some clients, like the Manassas, Va. resident who identified himself only as Hugh, like what they perceive as the "family values" of Russian women.
"I liked the value system of marriage and family," Hugh said. "Those things are more important over there".
Some, like Herdon, Va software engineer Harry Green, like the absence of the so-called "rules" of dating.
"She was one person who seemed to be interested in making an effort," Green said of his wife, Yelena, whom he met three years ago through EI. "Se was motivated; she didn't worry about any short term cost or hurt feelings.
"She was interested in me, " he added. "I'm not a man of high expectations."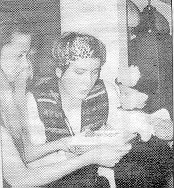 Yelena Green celebrates daughter Valeria'sfirst birthday. Valeria is one of 13 children born to couples introduced by EI
Yelena Green, for her part, said that she just wanted to find a good man, and after reading about EI in a Moscow newspaper, thought she'd give the service a try.
After writing to each other for three or four months, Green finally came to Moscow. And, Yelena recalled, "I knew right away that I loved him."
"Russian women look at us as an organization with men who have serious commitments," Spivack explained. "The men have to pay an $1850 entrance fee, and they're committed to go to Russia (visit the women). We usually deal with very serious people."
Her clients need to be serious: for at least a couple of months after the men choose their potential mates from a series of pictures and videotaped interviews, the lovestruck couples can only contact each other by mail, phone or fax. The women have to haul themselves to one of EI offices in Moscow or the Ukraine to pick up or send mail and to use the phone.
But Spivack noted that for many of her clients, letter writing is a "very rewarding" process. " They develop a better understanding of themselves and what they're looking for in life," she said.
And some clients have shown that it is possible to actively woo someone through such methods of communication. Hugh, for example, has taken to sending a red rose with every letter he writes to his Russian sweetheart. He said that he will continue to do so until he goes to see her this month.
"Three weeks from today I'll be there," Hugh said. "I'm kind of going crazy about it".
---