FROM RUSSIA WITH LOVE
McLean man finds love overseas with help of matchmaking service
THE CONNECTION , McLEAN/GREAT FALLS, VIRGINIA
January 11, 1995
Story by NOEL BRADY



PERFECT MATCH: Russian matchmaker
Natasha Spivack (below) displays a catalog
of pictures and brief biographies of Russian
women.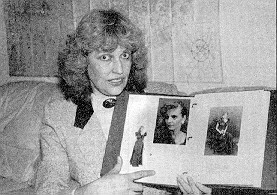 A match made in heaven or Russian roulette?
In this day and age of mail-order mania, a McLean man who became disenchanted with American women placed an international order to find himself a bride.
With the couple's wedding now just two weeks away, John Juliano Jr. and his fiancee, Jana Kens, say their love is true and everlasting, and they owe it all to Natasha Spivack, the Russian matchmaker of Encounters International.
" I never doubted it with Jana, " 27 year old Juliano said. "I never doubted that she would make the perfect wife for me. "
In June, shortly after a bitter breakup with his former fiance, Juliano was lonely and heartbroken as he told his father how he was disappointed with American women, he said. In response to his feelings his father, John Rocco Juliano Sr., suggested an international matchmaking service he read about in the Washington Post.
The manager of his father's Rocco's Italian restaurant in Springfield, Juliano Jr. was somewhat apprehensive at first, but he soon called Spivack, and made an appointment to look through her catalogs of attractive and available Russian women.
" I had this gut feeling to check this thing out. When I piece it all together now, I fell like it was God speaking through my dad and telling me to do it, " he said.
After grieving over his father's recent death from a massive heart attack in November, Juliano said he feels the advice was a final gift from his father.
At Spivack's home office in Bethesda, Juliano Jr. spent an hour or so perusing catalogs that illustrated more that 300 single Russian women, many scantily clad in bikinis and lingerie. Each catalog was classified by age groups of 18 to 29, 30s, 40s, and 50s.
"Whatever the market demands we provide, " Spivack said explaining why her company only accepts attractive, professional Russian women. "Since there are more than enough attractive women, why should we choose unattractive women?"
After starting the company with her American husband, Berel Spivack, in 1993, she said they have matched more than 40 couples resulting in 15 marriages and only one separation so far.
But love doesn't come cheap. For the prospective husband, membership into the club can cost up to $1,850, she said, but for the women it's free.
The attraction for the Russian women, Spivack insisted, is not coming to America but family and caring husbands, which are hard to find in Russia.
"Russian men are either drunks or rich from the new capitalism", she said. "The rich ones don't respect the women, they just want to be cared for. Neither one are able to create a family."
While some may jump to equate Spivack's business to ordering a major appliance from the Sears catalog, she defends herself saying the arrangement benefits all parties involved and no one is coerced.
The Montgomery County Office of Consumer Affairs reported that Encounters International has received no complaints and at this point they could see nothing illegitimate about the business.
Although Juliano said he picked out 10 women in their 20s that he wanted to write to, it was 22 year old Kens that really caught his eye. An attractive, financially secure fashion designer living in an apartment in Moscow, Kens seemed perfect to Juliano. He began to think he'd never hear from her when three weeks passed and he had received faxed letters from six of the other female correspondents but nothing from Kens.
"I was looking for what they were interested in," Juliano said, explaining how he chose the women with to correspond. "They were more family oriented types of women, but Jana was all that and beautiful too."
Almost a month after he sent his first letters out, the one he had been waiting for finally arrived. "For some reason I really wanted a letter from her," he said. "When in finally came I was really surprised that she wrote."
From that point on everything seemed to click, Juliano said and the letters continued to flow back and forth between Kens and himself. From July 7th to September 3rd, he said he received two to three letters a week from his new Russian friend and never missed a beat in returning each transmission with a four to five page composition revealing some of the most intimate thoughts he had ever put into words.
Kens said the idea of marrying an American and moving across the Atlantic seemed like a joke when a girlfriend talked her into answering a newspaper ad for Encounters International. But after meeting Juliano, she said, the joke became a reality too exciting to pass up even though she was successful and happy in Russia.
The only thing missing in her life was a sensitive male companion, something very difficult to find in her homeland, she said.
With the help of a girlfriend who spoke fluent English, Kens was able to understand the letters sent by Juliano who speaks no Russian, and together the two women penned Kens's thoughts word for word as she spoke them in Russian.
"I like his first letter," Kens said, struggling to express herself through broken English. "When I read his first letter I thought it was very warm. I felt like John was a kind man, a nice guy," she added, giggling.
By September, Juliano said he felt like he knew Kens as if they were old friends. After three months of opening his heart in words to a person on the other side of the world, he said he felt like he was ready to meet her and possibly ask for her hand in marriage.
Along with three other men participating in Encounters International, Juliano boarded a plane for Moscow on September 3rd. With a gift wrapped sweater under his arm, he met Kens at the airport and began what he calls "the most exciting three weeks of my life."
Just three days after landing in Moscow, Juliano said he was positive that the love he felt through the letters was true.
Even though communication was difficult, depending often on expressions, gestures and body language, Juliano managed to make her understand his feelings when he took her hand, dropped to one knee in the middle of Moscow's Red Square and asked her to be his wife. Blushing with excitement, she immediately accepted.
"I was 98 percent sure she was the one for me," he said of his conviction before landing in Moscow. "I had people tell me that once she gets over here she's going to say 'hasta la vista, baby,' but I'm a positive person, and I knew that wouldn't happen. She loves me. Just by the way she looked into my eyes I knew I had the right woman for the rest of my life."
After wading through the paperwork, to secure her fiance visa, Kens followed Juliano back to McLean about two months after his return, Everyday Kens' English improves, as the two become more acquainted and spend most of their free time preparing for their wedding at St. Luke's Catholic Church in McLean on Saturday, Jan. 28.
As their wedding date quickly approaches, Juliano said he and Jana are becoming closer and even more sure of their love for one another. Although some may wonder how two people can become so close when they don't even speak the same language, Juliano said it makes perfect sense.
"We overcame the language barrier. It brought us a lot closer. After dinner, when we first met, we would just sit and talk to each other for two or three hours always looking up words in the dictionary."
---